…frustration, in this case.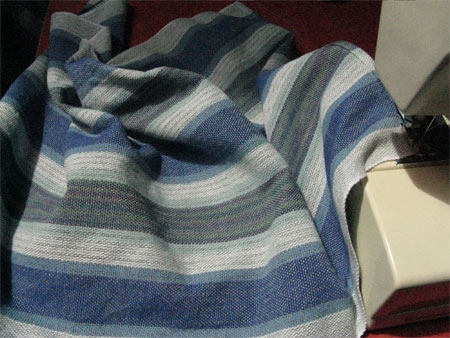 After fighting with the warp to get it beamed, I fought with it for most of the weaving, too.
I wove one towel & had to cut it off & re-tie because the warp was so poorly tensioned. All will be well now, I thought.
Hah!
I had to weave on the tightest tension I could possibly achieve on my little counterbalance loom in order to have a clear shed and good selvedges, and that meant I had broken warp threads. Pretty much on every towel.
Even so, my selvedges look like a beginner wove them, not up to my usual standards AT ALL.
Then it took me most of a day to do the finish work – machine stitch a single line, make the hem & machine stitch that, hand hem the side of each hem, needle weave in all ends from the broken warp threads.
Finally throw them in the washer & dryer. Whew! I still have to hard press them all.
I used some of that variegated cotton from the baby wrap weft for added interest, and I wove with 4 different weft colors – 2 of each: white, palest blue, medium blue, and palest green.
Then I spent way too much time designing posters for my Community Weaving Project, designing & sending out emails for my show Mother's Day weekend, and
When I get them all pressed I'll show you, as long as you realize that the differences are pretty subtle.
Right now I have to take a shower and go to my Guild meeting. Looking forward to spending time with those kindred spirits.