I found enough off-white rayon chenille to warp my loom for 2 more clasped weft skyline scarves. My plan was to weave both as carefully as I could, and trust that one of them would be good enough for the jury.
I wove about 5″ on the first scarf and then wanted to do a peaked roof. After trying, I realized that I was likely to have the same issues as I did last time – an inability to get those roofs completely symmetrical. So I left the loom and sat in my chair for a few minutes to think about what might help me. I decided I'd make some peak templates with paper, some triangles of different sizes and angles. I'd pin them under the warp and use them as guides, just as I'd been taught in the pick up workshop.
Back to the loom with my paper cut outs. Nope. Pinning them under the warp doesn't work – the rayon chenille is too fuzzy and densely sett for it to work.
Pin the paper on top of the warp…nope. Can't see what I'm doing. Go back to the chair and think some more.
Aha! A brainstorm. Buy a washable fabric marking pen and draw on the warp! This takes a few days, since Joann Fabrics is about 40 minutes away from me and I don't want to make a special trip just for the pen. So my loom sits and waits.
Once I get the pen I'm back at the loom. It is the best alternative, but less than perfect. The line it makes is thicker, and because of the chenille, fuzzier than I'd anticipated or wanted. Still, it's much better than trying to count threads and/or follow a warp line across the weaving. So I finished weaving cityscape scarf #2.
Then I decided to go back to my computer for a few minutes and grab a few black & white graphic images of city skylines. I wanted to get Buffalo, the city where I lived from age 3 to 24, and another city that I thought was reasonable for my weaving purpose. As it happened, I picked Houston. I printed them both on an 8.5″ x 11″ sheet of paper and brought them back to the loom for inspiration.

I decided that I wasn't in love with the scale of my buildings in skyline #2. Like the buildings in skyline #1, they were wide and to my mind, not as aesthetically pleasing as they might be. So my buildings for skyline #3 would be narrower, and using Buffalo and Houston as inspirations, they would also have more variability in their height.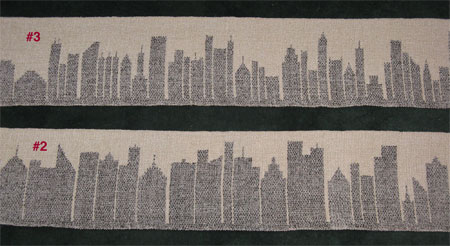 Making the building narrower would also make it easier to deal with the symmetry issue. I could much more easily count and/or follow a warp thread for a narrow building.
As I wove along, I was really happy with the scarf. Even though as I got near the end of the warp I wasn't going to be able to make it as long as I usually do. I wasn't at all concerned with that since it would definitely be long enough for the jury.
I finished, cut the scarves off the loom, took them upstairs and ran my lines of machine stitching, came back downstairs, and did the hand hemming while I watched the red carpet for the Screen Actors Guild.
This morning I tossed them in the washer and dryer. After the dryer I was very disheartened to see that one of the ends of scarf #3 was in trouble. I obviously had cut through the machine stitching before I hemmed. DAMN!! My experience told me that hemming rayon chenille after wet finishing was problematic.
Apprehensively I took out the hand hemming, took the scarf back upstairs, ran twolines of machine stitching, came back down, and cut off the bad part. I carefully hand hemmed again, and am happy with the result. YAY!!! This is a good scarf for the jury!