After my last post I did receive the new modem from DishNetwork. Unfortunately I couldn't activate it. A phone call to Dish, and the techies couldn't figure it out so they had to send a real live person to my house. Four days later.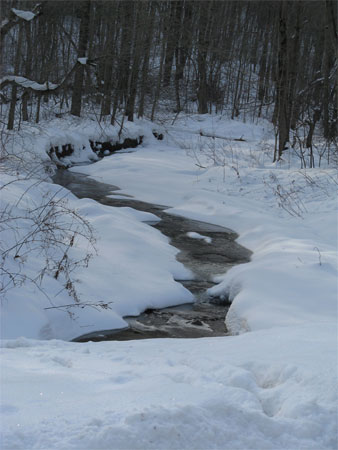 The technician worked on it for 2 hours before he got it to work. Made me feel a little better – if he'd gotten it to work in 5 minutes I would have felt a bit dopey.
Anyway, I was without any internet for four days. In truth, I rapidly got used to, and rather enjoyed, my 3 weeks of not being able to connect to my work email. When I was home, I was home. Period.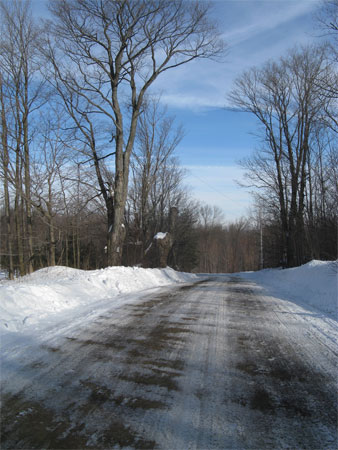 I even got used to, although not as happily, being without my email or internet searches for 4 days. In the meantime I took some photos on one of my walks. The weather changed dramatically and we have almost no snow on the ground now – it's replaced by mud & yuck – but I like the beauty of the snow shots.
I've also been weaving. I thought I'd taken photos of all of it, but apparently not, so you'll only see some of it for now.
I wove 4 cotton flannel baby blankets in variegated yarn. I've woven them before, but didn't have any all last year. They're so soft and colorful, they usually sell well. This time I used 3 different binding colors – 2 in yellow, 1 in pink & 1 in blue.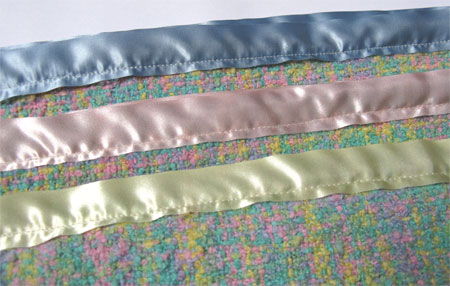 I was a bit surprised by how much that blue binding really brought out the blue in the yarn. My personal preference is the yellow, but I suspect my customers will like them all.
I set up the Mac for 12 placemats I have an order for. The customer chose the yarn and the pattern, but neither of us was sure how this particular yarn would work with this particular pattern. The pattern is an adaptation of the Spot Bronson placemats in Best of Handwoven's Top 10 Placemats on 8 Shafts.
I decided in advance that I'd weave a sample one, hem & wet finish it, and let my customer see it before I wove all 12. She also wants 12 coordinating napkins – I figured I really better get this one right before I did all that weaving.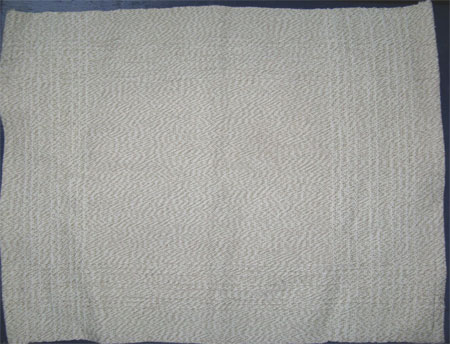 I have to say that this photo doesn't do the placemat any favors. It looks all uneven, and it's not. Plus you can see that after I pressed it I folded it to take with me and those lines stayed. C'est la vie. I'm not sure the customer will like it. She'll see it on Tuesday & I'll go from there.
Maybe next time I'll have the scarves I wove photographed to show you.