Laura Fry, a talented weaver who's happy to share her expertise, just put out another publication — A Good Yarn: Cotton. Complete with actual weaving samples, 10 each in both pre- and post-finishing states, A Good Yarn is a wealth of information, predominantly information that isn't available elsewhere. No one denies that. Some people, however are complaining about shipping costs. Laura lives in Canada, and shipping her new book, sans 3-ring binder, to the U.S. is $25. This photo shows my package, which arrived just yesterday.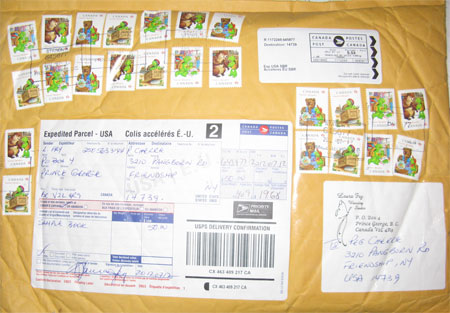 It is literally covered with stamps. Shipping costs what it costs. I know from personal experience that once a piece of mail crosses the Canadian border, the price increases dramatically. I can't explain it, I just know it's true.
——————
It started raining last night. It rained gently most of the night, amounting to about .4″ of rain by this morning. Lovely! A sweet, gentle rain that could soak right into the parched soil. Plus it lowered the temperature from our awful 90s to a cool high 60s. Then, all day long, the weather vacillated between a solid gray sky, a mist that was so light that it couldn't be seen on the surface of my pond, and a rather hard rain. By evening, I'd received a truly wonderful 1.4″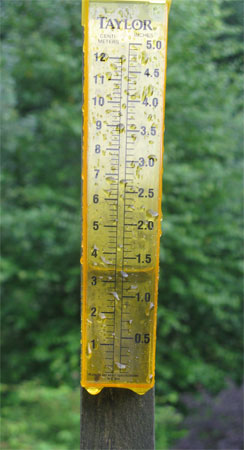 I was lucky enough to get another 1.4″ a few days ago Sunday – but it rained so hard and fast that much of it simply ran down the driveway after no rain at all for weeks on end. I'm thankful for the rain. Like most parts of the country, we're in drought conditions, and neither of these rains were as widespread as they might have been.
——————
I recently completed some lovely (I think) pink Swedish lace scarves in rayon. I usually take the photos of my handwoven scarves when they're laying flat on a sheet, showing how easily they curve and drape. Not this time.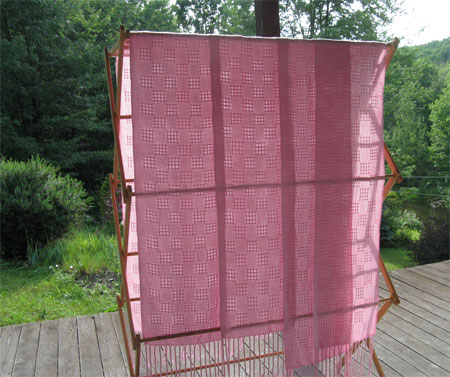 I'd washed the scarves and got them about 80% dry in the sun. Then I pressed them, and hung them back on the clothes rack to completely finish drying before I tagged them and put them away.
The sun hit them on the porch at a great angle, and I really liked the way they looked, so decided to take my pictures there.