While I was at the Letchworth show, as usual I was weaving on my rigid heddle loom. This time I chose two shades of blue. And since it's a three-day show, I warped the loom for two scarves, figuring I'd have enough time to weave both while I was there. I planned on and warped the loom for scarves with checks of the two colors.

The mohair was working well on my rigid heddle, as always. But about 3/4 of the way through the scarf, I got an idea. What if I cut the first scarf off, rethreaded the loom, and did the second one as a log cabin? I'd never done log cabin with mohair, and these two colors had enough contrast that I thought it would work well.
So I did just that. Here's how that scarf turned out after wet finishing.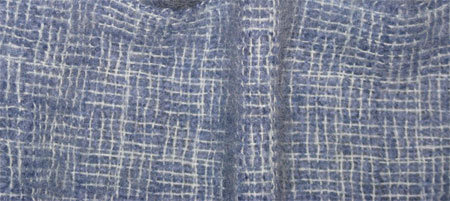 I like this one, too. I am, however, amazed at how different the two scarves look. Same colors, same quantities of each color, but what a difference!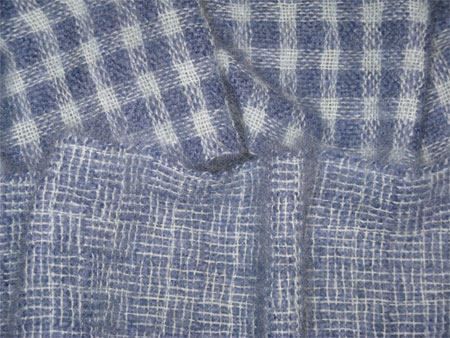 The checked scarf really is bold in its appearance. With just a glance in it's direction it waves and says, "Hi! Here I am!" Conversely, the log cabin scarf is much more demure, quietly batting its eyelashes and waiting for you to notice it.
I like them both for their own beauty, I just didn't expect this contrast in overall appearance.
Your turn: what's surprised you lately?