While I was at MAFA, I saw some scarves woven in twill blocks that excited me. I saw some other twill blocks online at Weavolution. The beauty of this design – simple to thread, simple to treadle, is that the two colors flip back and forth from the front of the scarf to the back. With part of the scarf woven in a 3/1 twill (over 3 threads, under 1), and part woven in 1/3 (over 1, under 3), the color that's going over 3 threads become prominent, the other sinks. For an example, look at your jeans. Right side out, they're mostly blue; inside out, they're mostly white.
I decided I had to try the technique, and wanted to weave with silk again. Since I had silk in a few colors, I was off and running.
I planned the specifics of the design, and set up the Macomber loom with gray silk. I wove the first scarf in a slate blue. I was thrilled that the technique worked so well. Here you can see both sides at once while it's on the loom. Mostly blue with gray blocks on top, mostly gray with blue blocks underneath.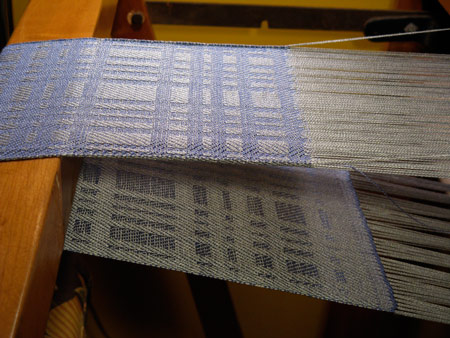 I wove the second in dusty rose and the third in a bright yellow-green. Here are the three of them together, with each of them flipped over so you can see both sides at once.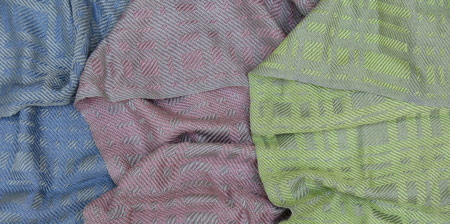 I do wish the gray was a little lighter, more silver than gray, but they're all just fine. They're soft, smooth, and drape well. I think people will like them.