My eggshell cashmere silk scarves were a failure, at least as far as being saleable. So I combined my customers' requests for white or eggshell scarves and their desire for cottons into one product.
After my recent experience with the 5/2 handpainted Egyptian cotton, I knew that I wanted to sett the eggshell cotton farther apart than the 15 ends per inch I used then. I also wanted to make them be handwoven lace, because that would help with softness and drape. Lace weaves need to be sett and beat loosely, so I took a gulp and set the neutral 5/2 pearl cotton at 12 ends per inch. I threaded the loom for an all over huck, and sat down to weave.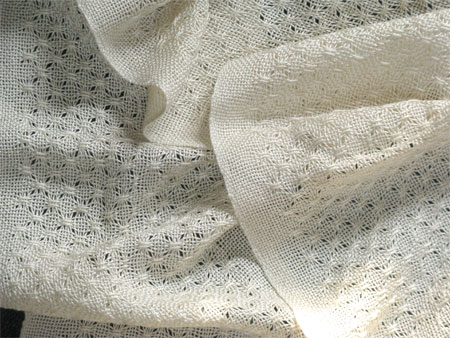 I LOVE THESE SCARVES!
They're soft drape really well for cotton. The color and lace provide a very classic look; the cotton ensures great versatility. I'll be amazed if they don't sell at the Roycroft summer show this weekend. I'm sure I'll be making more of these. (Hope I don't end up eating those words.)
Like with most of my handwoven lace, I made these scarves on my delightful little counterbalance loom. It is totally possible to weave with 3 shafts against 1 on a counterbalance. It just takes a bit more care, since the shed (the opening where you pass the shuttle through) isn't as large.
No, once again I didn't sample these scarves. I am much more confident when I'm working on my little loom. We operate on the same mental plane, and I just knew this one would work.