After making a mess of the warp, I figured I should show you the good news…the story of a happy warp.
It started with several cones of a lovely, shimmery lightweight rayon yarn. Orange, gold, light green, and dark green, then back down to orange again.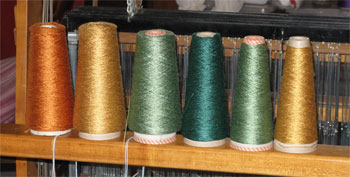 (I used up one of the orange cones, so you don't see it at the right end.)
Here it is on the warping board. Of course, this is when I wound twice as much as I needed, but it gives you a great view of how the colors look together.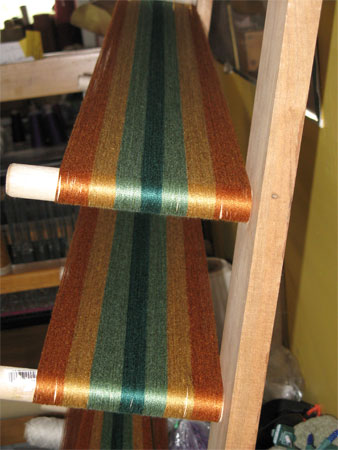 You saw the mess I created when I went to put this too-wide warp on the loom. After I fixed it, I threaded the loom in an M & W pattern.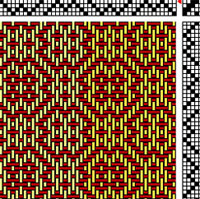 I then wove the three scarves using a nice burgundy weft. I love the look of these scarves. As much now as I did when I first wove them last year. I made 2 last year with this burgundy weft, and one with dark green, and they flew off my display the first day I put them out. Since I much prefer the burgundy weft, that's the only color I did this time. After all, it is all about what I like, isn't it? 🙂
I still have to finish the fringe and then wet finish the scarves, hopefully tomorrow.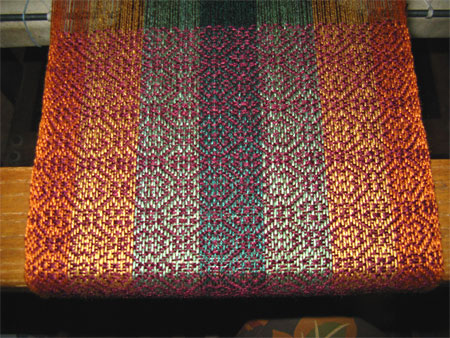 I plan to apply to be a Roycroft Artisan this year. Pictures have to be in to them by March 1, and then they need to get finished pieces in April. I want one of these scarves to be in both the photos and the finished pieces. The challenge now will be getting a good picture of it. I had a lot of trouble getting the colors even close to right on the loom, and I'm still not happy with it, and don't know that it'll be any easier after it's wet finished. Add to that rayon's sheen bouncing the light around, and I know I'll have to work at getting a good photo for jurying.
This one shows the colors up better, but I don't think it's the image I want to use for jurying.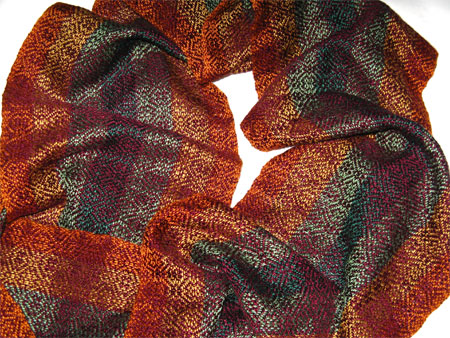 It does show how wonderfully soft the scarf is, and what a great drape it has, but somehow doesn't strike me as right. I still think it looks so much better in person. Not sure how I'll proceed.