Thanks to my daughter, I recently decided to try some weaving in a cashmere silk blend. I ordered two different colors in a very fine yarn, actually a thread, since it's 6,000 yards per pound. The colors are really beautiful — a deep, dark, purple like the royals used to wear, and an earthy, coppery orange.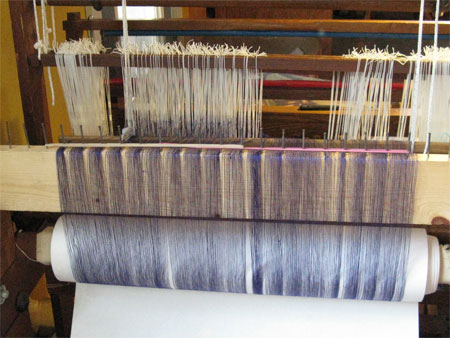 This picture gives you an idea of how fine the threads are, and how I'm planning to sett it at 20 ends per inch. I want the finished scarves to be very fine and light. We'll see if this sett works. (Of course, as per my usual mode of operation, I haven't done a sample. Lots of weavers are now shaking their heads in dismay.)
The blend I'm working with is 45% cashmere & 55% silk. It's so soft – when I took the chain off the warping board, it was all I could do to not just pet it.
I ordered the yarn directly from China, from Yubina. I was a bit apprehensive, but Fleegle convinced me that the company was reputable, so I took the leap, and had no problems at all.
Despite all its wonderful qualities, I have to say that NOTHING I have warped before – wool, cotton, bamboo, rayon, cottolin, or even rayon chenille – holds a candle to winding this cashmere silk yarn onto the loom. Although the yarn feels very smooth to the touch, the cashmere has the tiny little hairs associated with wools. These tiny little hairs, on such fine thread, catch on each other and cause the yarn to stick together. It took me HOURS to wind the 9 yards on the back beam at this pace: wind about 6″, comb for 5-10 minutes, wind about 6″, comb for 5-10 minutes. Now I've finally gotten it wound on the back beam, and have about half the heddles threaded.
Your turn: weavers out there who've worked with this yarn, please tell me the secrets you've used when winding on.