A few years ago when I first saw a scarf handwoven in a log cabin pattern, it blew me away. It was completely beyond me how this pattern could possibly be done. I spoke with the weaver, who insisted it was really easy. Huh.
I could see that it was a tabby weave, but how could you possibly achieve the stained glass look she'd done? I didn't even attempt it until now.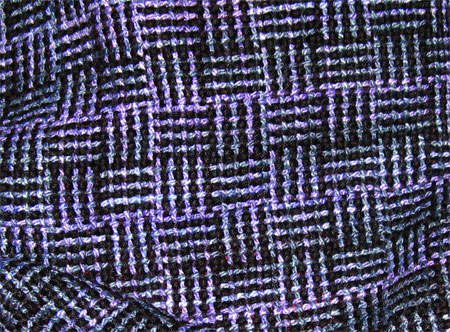 I'm happier with the scarf than I am with the picture. I can't tell you how many shots I took to get one that was even this good. The colors just don't show up well, now matter how many adjustments I make on the camera itself or what I try to fix it in Photoshop. So you'll just have to take my word for it that all the parts that aren't black are variegated blue & purple.
Actually, they're the handpainted blue violet yarn that I had already woven four scarves from. Â So there's blue, purple, and green in it. I didn't want the kind of color dichotomy that many log cabin weaves have, with a very dark color and a very light color – that's a bit too much for my eyes. With the blue-purple-green combo offset with the black, it is sort of stained-glass-like.
That blue violet yarn is a bamboo cotton blend, the black is 100% bamboo, resulting in a handwoven scarf that's 85% bamboo and 15% cotton. So even though it's a tabby weave, it's very soft and flexible with all that bamboo in it.
I have to say, even now having woven a log cabin scarf, it remains rather like magic to me how the pattern comes out of two alternating colors. I don't know who figured out this color and weave effect, but it's genius. I can't wait to try more – different colors, modifications of the pattern, different fibers. For instance, I haven't seen log cabin in rayon chenille, and think it'd look good. And I wonder what it would look like if you doubled each of the colors, making each color band wider. Or what if you did it all in one color – what would the weaving effect be like then? Would you see it at all?
Your turn: have you woven log cabin? What worked & what didn't?