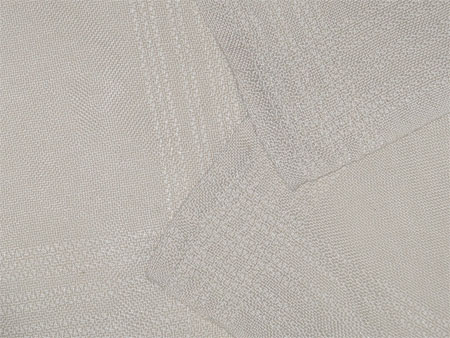 These are handwoven placemats I made on my Macomber. I made these out of an unbleached 10/2 pearl cotton, which gives them a nice, fine look and feel, as well as the slight sheen of the mercerized cotton. I modified a pattern I had for linen placemats, since the pattern called for yarn that was about twice as thick as the 10/2 cotton.
Despite spending literally hours planning these placemats, I still made a significant boo-boo. I didn't plan enough for the shrinkage of the pearl cotton. I used 288 threads, sett at 20 ends per inch, for 14 1/2″ in the reed. This translated to about 13 1/4″ on the front beam, which shrank to 12 1/4″ after wet finishing. That's bad enough, but the length, ah the length. I had 20″ on the loom, but after hemming — by hand, I might add, for real class — and wet finishing, they're only about 15″ long.
I keep telling myself that they're just right for an elegant luncheon, when the plates shouldn't be quite as large as a dinner plate. Besides, we all ought to eat smaller portions, and usually do when we're in a more formal setting, and these placemats are perfect for that.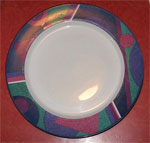 I'd like to show you how a placemat looks with a single place setting on it, but my dishes are all large and bold-colored. While they look great on my vintage red formica table, they just don't work on these lovely handwoven placemats. You'll have to use your imagination.
Your turn: Do you use placemats? What are your dishes like?