After I posted Part 3 of this contest, asking for your funny stories, I thought about what funny story of my own I would post. I was surprised to realize that I don't really have a funny story about Thanksgiving. So I'm posting Part 4 – Good News.
I got the best Thanksgiving news ever – my son will be home for Christmas! Michael's been living in North Carolina for about 7 years, and I don't think he's been home on Christmas itself in all that time. He usually gets some time off in the middle of winter, but we've celebrated Christmas as late as mid-February with him.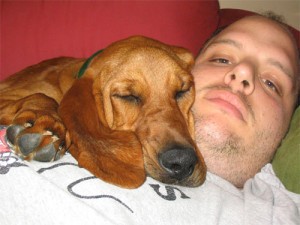 And this year? He'll be home a few days before December 25, staying for a few days after. YAY!!!
He'll be bringing my granddaughter with him. Here's a picture of sweet, little Dixie and her dad. Ok, neither of them are little, but they're both extremely sweet.
So what's your good news? Tell me and you're entered into the November contest for the free gemstone talisman