That silk warp that I dyed, shown in the last post, was definitely much more pink than I intended. No idea what happened to the purple. Although I was inspired by the Honey Pie photo I showed, the pink in mine had me change the name to Honey & Berries. Still I liked it well enough, so beamed it and started weaving. I used draft 22076 from Handweaving.net.
After auditioning a few different weft colors, I set off with a tan-ish color that I'm calling cafe latte. It worked well with all the warp colors, creating a more subtle overall look.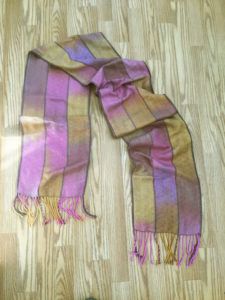 Next, in keeping with my 'must-use-stash' mantra, I went to the shelf where I had a few small cones of very fine cashmere-silk blend – roughly 9,000 yards per pound. I knew from experience that I couldn't use this as warp, so weft it would be. I used double strands of this yarn, and at 4,500 yards per pound it was still thinner than the 20/2 silk. First I used a natural weft. Definitely toned everything down, but in a way I liked.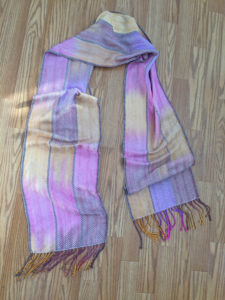 Back to that shelf of cashmere & silk, I chose black for the third scarf. As it always does, the black both popped the colors and darkened the overall look.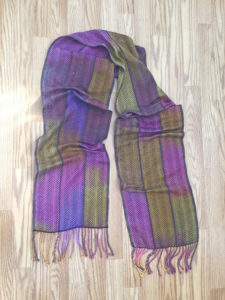 I usually have a definite favorite when I weave 3 pieces with different wefts. This time it's a toss up for me between the natural and the black.
After I finished weaving with the black I had more warp left than I usually do, more than I wanted to just cut off and toss. So I used 2 strands of undyed 30/2 silk for the weft. This made the fabric a bit stiffer, and while I was weaving I could see this as a back yoke for a yet-to-be-planned garment. I'm not sure this will ever happen. Maybe it'll turn into something else, maybe it will simply hang around and not get a 'purpose.'