A few weeks ago we had a wet, heavy snow here in Rochester (NY). Lots of it. 15″ reported at the airport. I shoveled for more than 3 hours, and it wasn't easy. Or fun. I talked to a few people about changing my mind and considering buying a snowblower. A friend suggested I consider a cordless electric machine – no gas engine to maintain and easy on the environment.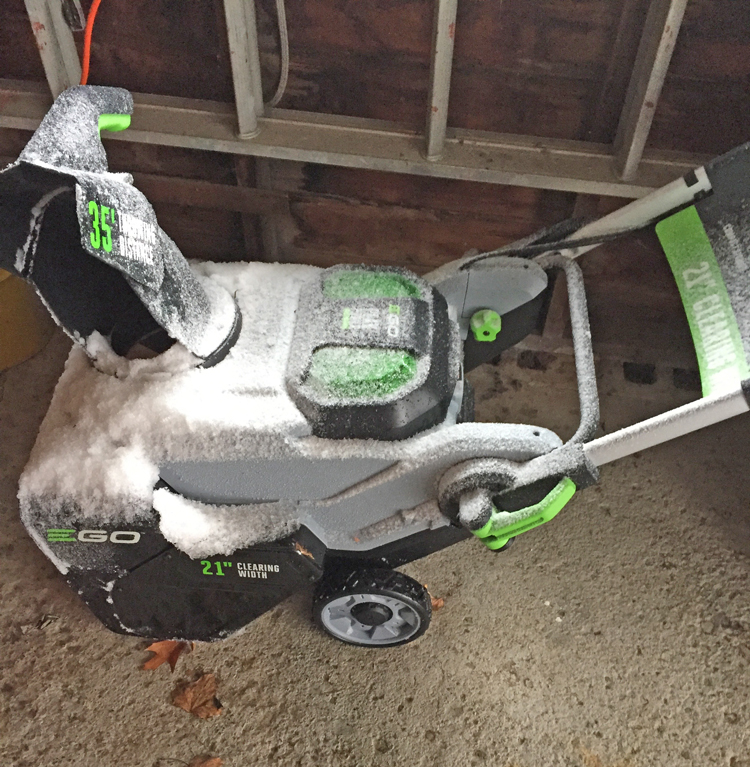 I did some online research, and ended up at my local Ace hardware. I bought an Ego that uses 2 batteries, and then waited for the snow. Today we had a wonderful (read awful) mix of freezing rain, sleet and snow. It was time to break out the snowblower for its maiden voyage.
I live on a corner, so have lots of sidewalk. Plus my garage is detached so I have paths in my yard to get from the house to the garage. Plus the driveway and a brick walkway by the front steps.

Although I have a learning curve – what do I clear first, and where do I blow the snow efficiently – my first experience was very positive. 45 minutes and all the wet, heavy snow was removed. This included shoveling my steps and those few areas the snowblower couldn't get into. I have no doubt that I this was no more than 1/3 of the time I would have spent shoveling, maybe only 1/4 of the time. SOOOO worth the investment to save my back! The video is only some of what I cleared.
I also dyed the green tea/modal yarn from Finger Lakes Yarn. I went for the Bijou Bounty in purples, and had some success achieving my desired colors. Warp for 3 scarves, and potential wefts for 2 of them.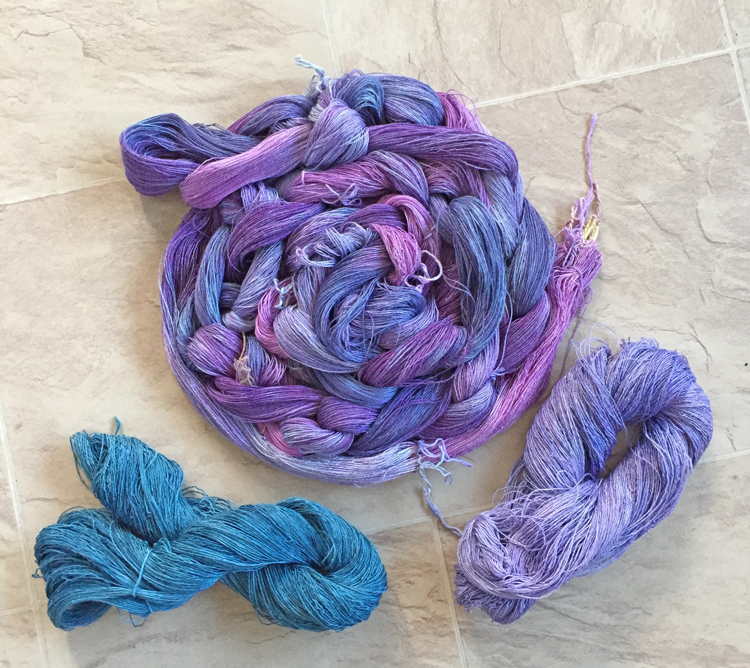 Only time will tell if I use either or both of those solid weft yarns. I'll audition them on the loom and see what I think.
Below I was trying to see which of these golds would work better for thin warp stripes. I went with the rayon (on right) even though it's a bit heavier, thinking the silk (on left) was just a bit too yellow.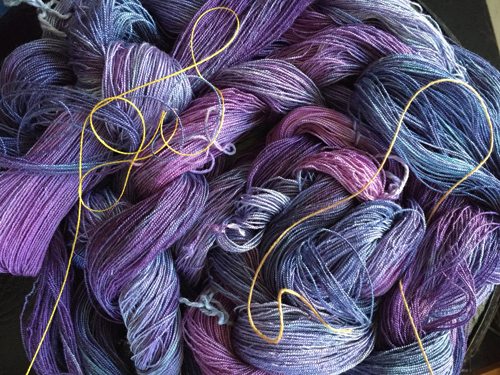 The warp is beamed and threaded, so it's time to wind those dyed skeins into balls so I can try them out.