These 3 scarves don't add to the totals I recently reported; although I hadn't posted about them yet, they were already completed and in my spreadsheet.
Usually if I like a piece on the loom, I like it off, and if I don't like it while weaving, I don't like it later. But sometimes I get surprised. This cowl is one of those times.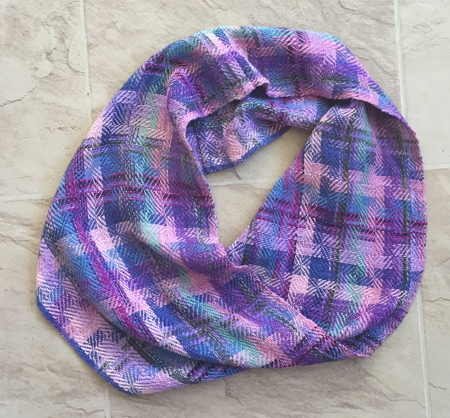 I did a lot of planning for a mixed warp (tencel, rayon, and a bamboo-cotton blend) of twill blocks, using multiple colors in the weft as well as the warp. Then I started weaving and pretty much hated it. So I decided to only weave it long enough for a short cowl. After it was wet finished? This is clearly my favorite piece on this warp. Go figure.
Anyway, since I didn't predict that, I rethreaded the loom for one of my go-to weave structures and wove a scarf with black tencel. It made everything too dark, IMHO.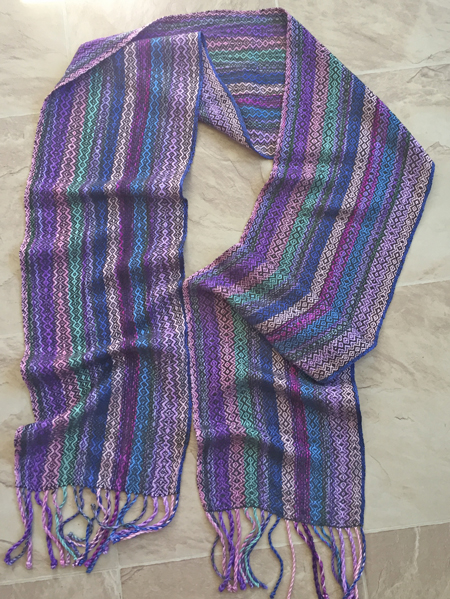 I wanted to brighten it up for the last piece and didn't have any rayon or tencel that moved me, so I went with mercerized cotton. But since the cotton was thicker (5/2) than the warp (which was a combination of 8/2 and 10/2), my calculations for yardage weren't even close. I realized pretty quickly that I wouldn't have enough of the blue to weave an entire scarf. So I put more mercerized cotton in various color stripes symmetrically in the middle of the scarf. Not my typical look, and I hope it turns someone on.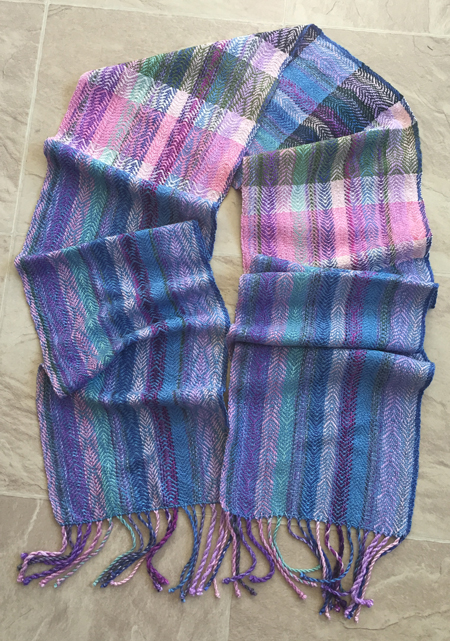 I'm working on finishing the towels – just some hard pressing left now – and getting another warp on the loom – the last before my show.