It's May 7th and I have 6 scarves woven, wet finished, and complete! First up, I started with some hand painted 20/2 silk. I dyed this yarn in late April, using a photo I found online from Blue Brick Dyeworks, as inspiration. They called it Prairie Storm, which works for me.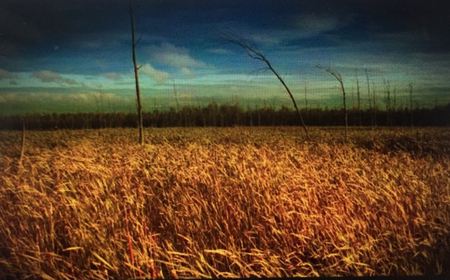 Here's the yarn I ended up with from that inspiration image.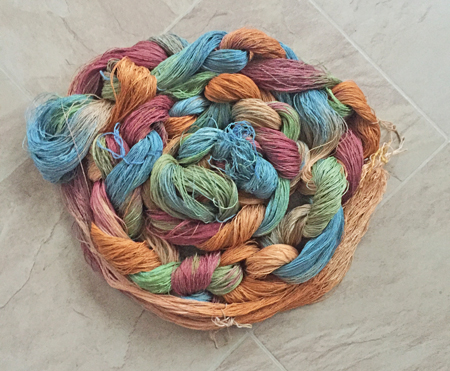 I chose a weave structure I've used many times and really like, and wove the first scarf with a 20/2 gold weft. Looks like that storm at dawn.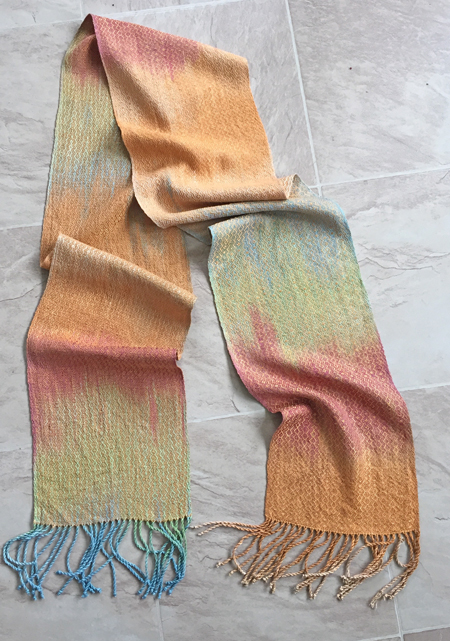 Then I used 2 strands of a textured green & white silk singles I've had for a long time. I also changed the treadling, turning the pattern into leaves. So different! The colors are more spring-like, and the texture adds a strong element.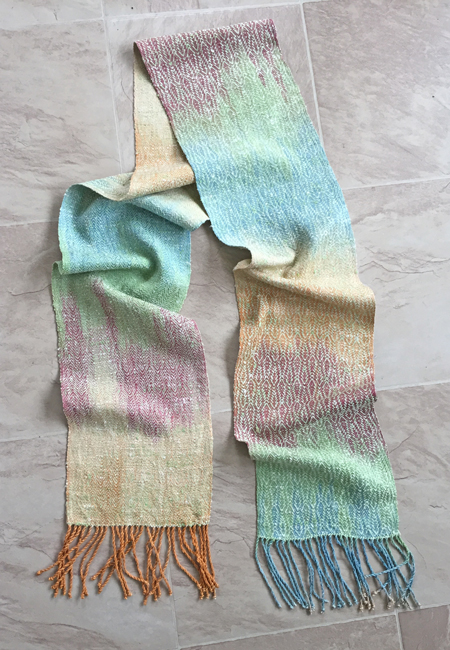 Here's a close up so you can see both weave structure and texture.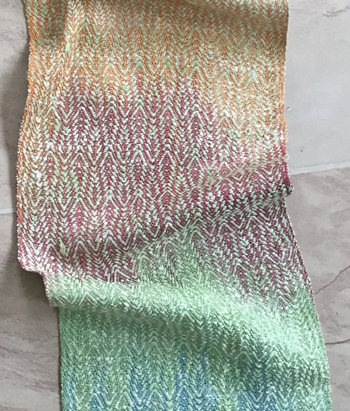 For the last scarf I wanted a strong color, so used 2 strands of 60/2 chocolate silk. Now that prairie storm is really threatening.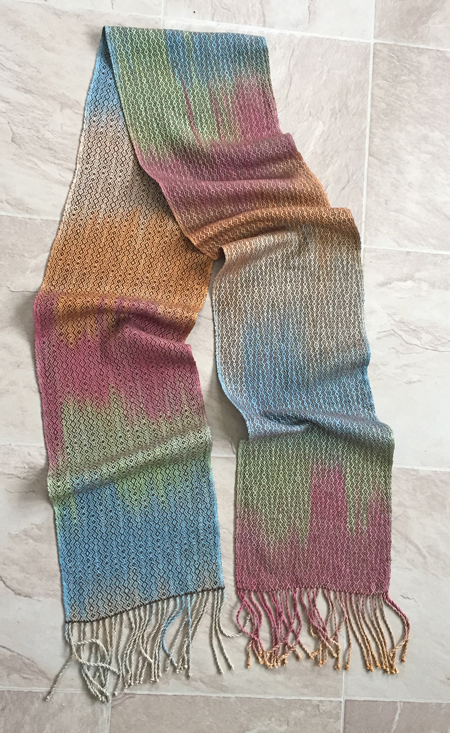 I went back to the treadling of the gold scarf, which you can't really see there, but you can in this close up.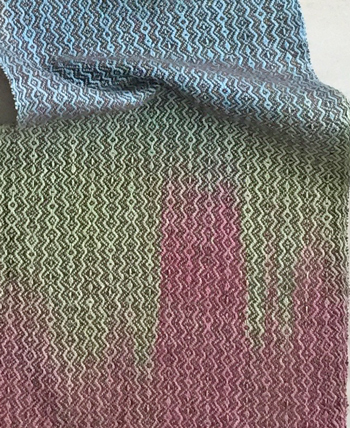 Then, sticking with my must-use-stash mantra, I pulled out a rayon seed yarn, something I've never used before. Sett at only 15 ends per inch, I had to remove my go-to 12-dent reed and go up to the attic to get my 6-dent to accommodate this 'lumpy' yarn. I wasn't at all sure how I'd like it. Turns out I love it! I used a different supplemental weft for each of the 3 scarves.
First is a wide ribbon with a gold metallic center. This one, like the other 2, has a regular old 8/2 rayon weft.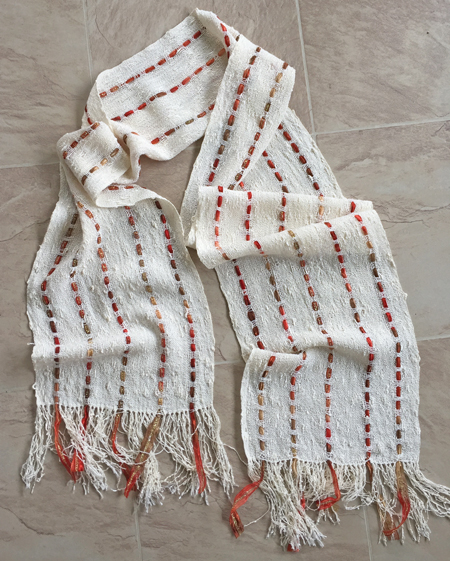 You can't really appreciate that ribbon or the texture at that distance, so here's a close up.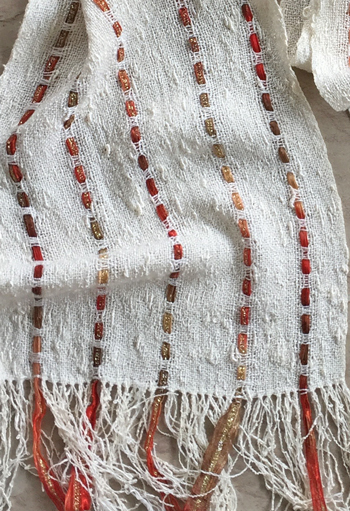 That wide ribbon didn't look at all good on the loom, and I wasn't at all sure how the whole thing would wet finish, so I cut it off and wet finished scarf number 1 before proceeding. Decided I didn't want to use such a wide supplement, so re-threaded the reed for the next 2 scarves.
This one is uses a soy silk flat ribbon-like yarn in purples and pinks.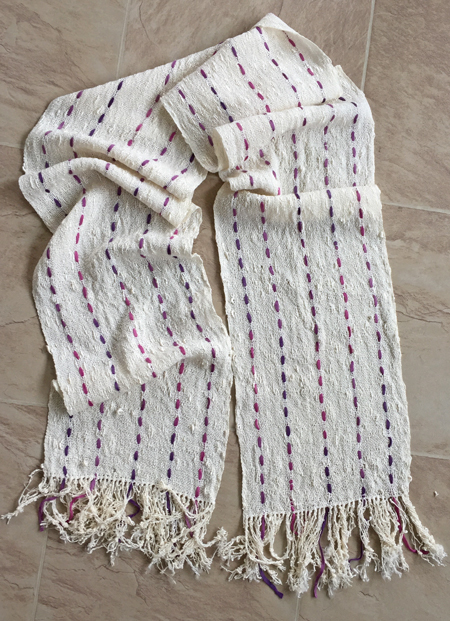 And the last one has a hand painted rayon yarn in greens and blues.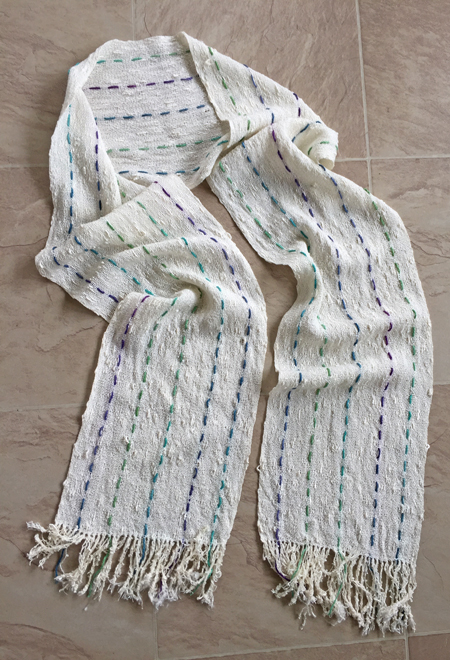 The only downside to these scarves is that there was no way I could twist that fringe, nor did I think they would make a nice hem. So I tried a few different simple knotting techniques, but neither is as neat a look as I prefer.
Today I got the next scarf warp on the loom. This one is dominated by this interested rayon boucle yarn that has metallic interest. Looking forward to seeing this one weave.