I'm closing out October with 9 finished pieces. My plan is to get enough ahead of my goals that I can spend some time weaving not-for-sale items, such as a transparency or two. So I managed to fringe and wet finish a few more pieces.
I beamed the 10/2 tencel red-orange-yellow warp I'd hand painted earlier this month. I loved it going on the loom.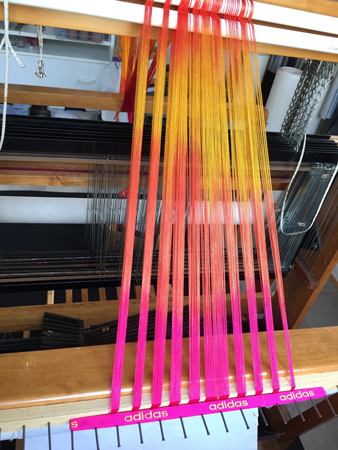 I'd been waiting to try a few things. One was a draft that I was calling 'wobbly eyes.'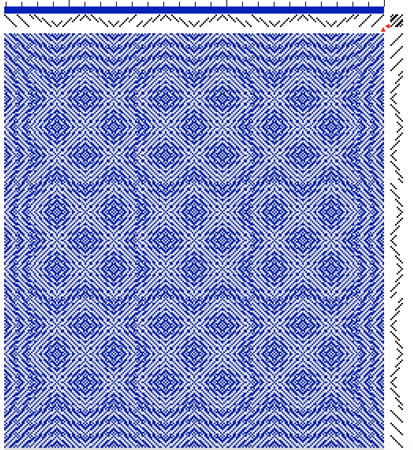 The other was experimenting some more with creating iridescence with color. So I chose an 8/2 periwinkle tencel weft. I was not in love with it on the loom, nor after it was all done.
I wasn't happy with this while it was on the loom, and finally remembered to listen to my own advice: either color or weave pattern can be the star of a piece, but if you combine the two they just fight with each other and it rarely ends well. So I cut the scarf off the loom and rethreaded for a simple point twill. I chose a dark red rayon 8/2 weft. I knew on the loom that this would work, and I was right. Due at least in part to the season, I'm calling this scarf Red Maple. (Note that the colors aren't quite as intense as they appear in the photo.)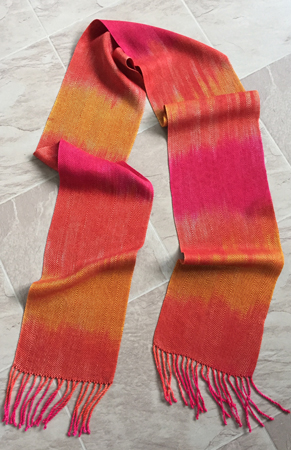 I thought I had enough warp left for 2 short cowls. I was wrong – there was only enough for 1, but this turned out to be my favorite of the 3: Golden Maple.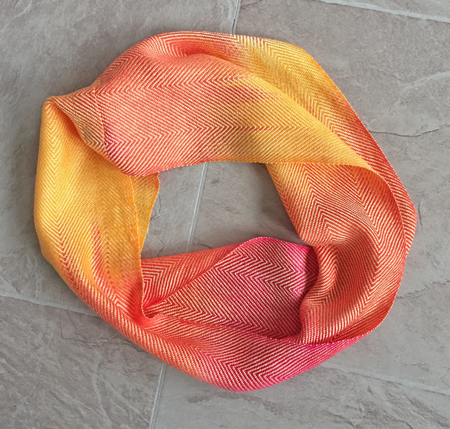 In fact I liked it so much that I wore it to the NYS Climate Summit I attended yesterday.
Right now I'm getting an almost-redo shawl warp on the loom. It's 8/2 cotton and a fine vintage synthetic treated as a single thread in the heddles.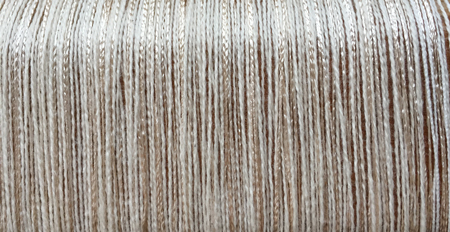 It's an almost-redo because I couldn't find any of the 'lumpy' cotton yarn I'd used as weft last time, so I bought the closest thing I could find. We'll see how it turns out.
Completely unrelated, some weeks ago a friend introduced me to a local dance class. Actually, I invited myself to go along with her. I. Am. Hooked. This is a soul line dance class, offered in a rec center in the city. The women in the class are so welcoming, the dancing is great fun, and unlike lots of other exercises I've tried, this one doesn't hurt my knee. I often make mistakes when a new dance is introduced – which happens every single week – but it's all good. When I get home I watch YouTube videos of the new dances and learn them as the week goes on. So I get more exercise every day. I am having a GREAT time AND losing weight – win-win! Here's a clip of one of the newer dances, one that gets the heart rate up, especially if you do it several times in a row. Enjoy!