I got everything done that was on my list. All that's left for today is to go pick up and load the rental van and drive.
I managed to fit in weaving 3/4 of the first of those custom baby wraps, with a white weft.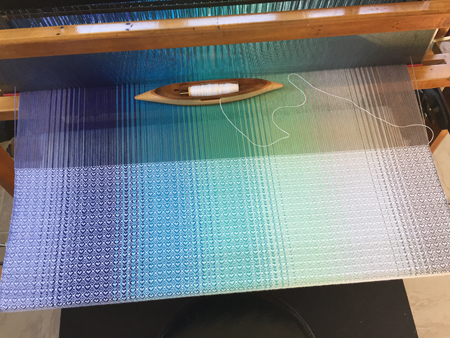 The warp will make 3 wraps, each pretty short at only 2.3 meters, meaning I only have to weave 110″ apiece. The first wrap has that white weft, the other 2 will have charcoal wefts.
I looked at the dates involved and breathed a sigh of relief. I had promised the moms that I'd have the wraps woven within 3 weeks of receiving the yarn. The box of yarn arrived on June 27, so I've got until July 18 to do the weaving, hemming, and wet finishing. No sweat.
So back to this weekend…the weather forecast in Chautauqua is for rain – most of the day Friday and all day Saturday. It looks like it might clear on Sunday, so I'm crossing my fingers that I'll be packing up dry. However if it does, in fact, rain for 2 days, I likely won't be able to do everything I'd planned. Although I have awnings for my tent, depending on the wind strength and direction, I may have to have the sides of the tent down, which dramatically limits the space available.
But I couldn't know that as I was preparing, so I have the rigid heddle loom and a tapestry loom ready to go. Actually, the tapestry loom has a story behind it. I intended to use the little picture frame loom I bought from my weaving teacher. But when I pulled it down, I realized it was too small for 3 days of weaving at this show, where people can hang around for some time, as opposed to street shows where people move rather quickly.
So I lucked out when I saw this frame for a laundry bag by the curb several blocks away.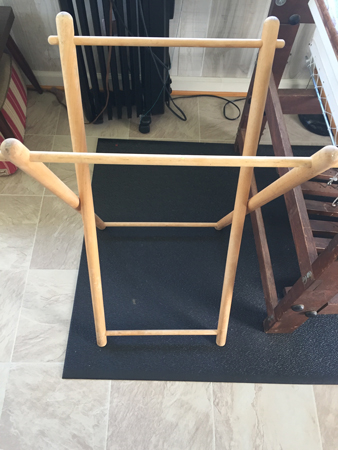 I snatched it up, took it apart into 2 big rectangles, consulted with the weaving teacher about the ends per inch I should use, and warped it up with carpet warp.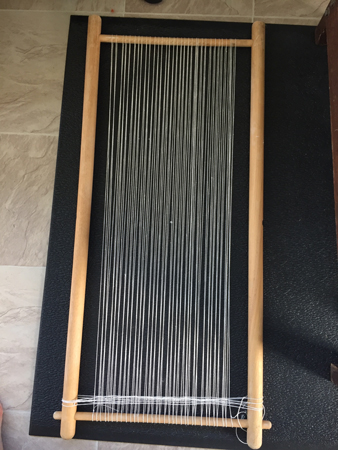 I do hope we get to use it this weekend. This is SOOOOO much easier than the frame looms I crafted for previous community weaving! And now I have TWO of these laundry-bag-holder-looms. I will use them in the future, I'm sure.