Homonyms can be fun. While everyone wouldn't pronounce catsup, ketchup, and catch up exactly the same, they sound pretty darn similar when they come out of my mouth. 🙂
So this post is to catch up on some things that are a bit newer than Christmas, but not really new. And not necessarily in the order created.
In my most recent weaving-related post I said I was working on my last pending custom weaving order. I finished it, wet finished and hard pressed, and mailed it to the woman who was patiently waiting. Jack couldn't resist photo bombing it. Good thing I let my customers know I have a dog-friendly home. 🙂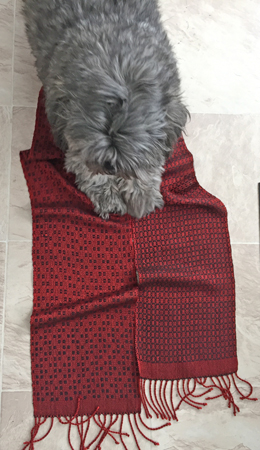 I've been knitting myself socks for six years, so my oldest hand-knit socks have been worn MANY times. Socks are meant to be worn, not to look pretty in the drawer, so they wear out. Back in May, for the first time I tried darning socks that were wearing out. Although not pretty, it was reasonably successful. Swiss darning, also known as duplicate stitch, can only be used when the sock doesn't yet have a hole in it.
Last month I had a sock with a hole in the bottom of the sole, right on that 'ladder' from when I was using 4 needles to knit my socks. (I use two 24″ circulars now, eliminating a ladder on the sole.)
I watched a Youtube video from Knitpicks on how to patch and tried it. But I clearly didn't have the technique right, because I had a big lump in the bottom of my foot and the sock was unwearable. I simply set the socks on the top of my dresser for a few weeks until I got up the nerve to try the more radical fix of re-knitting the toe. I had to accept that they were unwearable the way they were, so even if I messed up with the re-knitting, I wasn't really losing anything.
I bit the bullet and cut the top of the toe off that sock. Then I tried to unravel the knitting down to where the hole was. Hmmmmm….that wasn't going as planned. Two reasons: the wool had done some felting in the time since I knit them, but more importantly, since I knit virtually all my socks from toe up, they could have been unraveled from the top down, not the other way around. I struggled for a while, then simply decided to pick up stitches past the hole, re-knit the toe, and deal with the rest of the problem later. After all, if I couldn't re-knit the toe smoothly, I wouldn't have to solve the issue of stitches I couldn't un-do.
So I knit, moving down to the toe as opposed to my usual up. It looked, felt, and fit just fine. Then I took my little embroidery scissor and cut off more of the yarn from the original toe, getting close to where I started the new knitting. Then I struggled a bit, eventually having 3 or 4 long strands of yarn to deal with. I wove those ends into the new knitting, hoping it would feel smooth when I wore it.
And it did!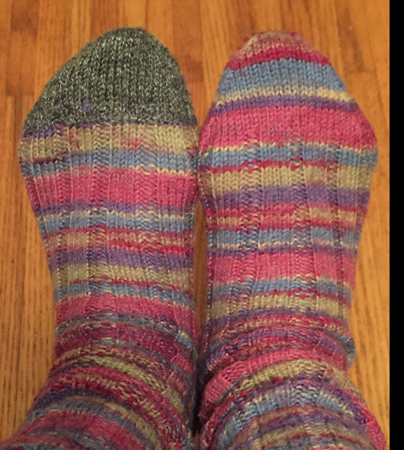 A few weeks later I noticed a hole near the heel of another sock…amazingly the second pair of socks I ever knit! I did NOT want to re-knit the heel, so I thought more about that patching technique, and thought I knew where I went wrong. I watched the video again, and although I couldn't really see if what I thought was my correction would work, I decided to give it a shot.
Woo hoo! That worked, too! Smooth wearing, not a lump or bump to be felt.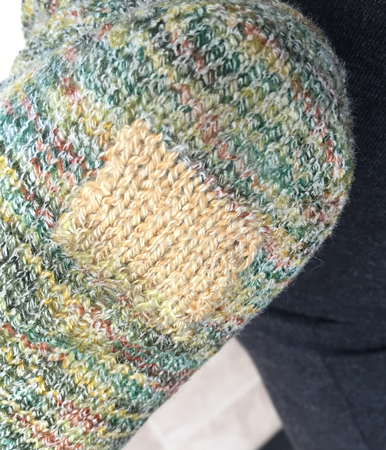 The same spot on the other heel was weak but not a hole, so I wanted to go back to the Swiss darning method. I have to say, I am not good at this. I should practice using a very different color yarn on something that doesn't really need fixing just so I can practice the technique.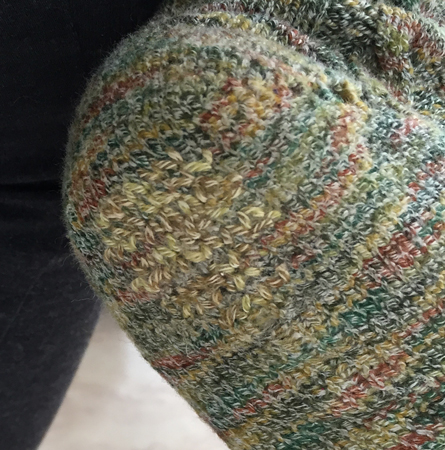 Yeah, right. Some day when I have nothing else to do. (Can you hear the sarcasm dripping from that sentence?)