My last show was really marvelous. In addition to a few odds and ends, I sold an amazing 9 shawls and 21 scarves. WOW! So now I need to weave more things so I'll have plenty of stock for my next shows. Fortunately I have until mid-September to prepare. But being a good obsessive-compulsive, I got on a tear and decided to weave up some rayon chenille shawls. I got smart and realized that my life would be much easier if I warped for only 2 shawls, not 3, given the challenges I always have when beaming wide rayon chenille warps.
In the last few days I got 2 shawls on and off the loom and wet finished. I'm calling them Warning for the Jenny Joseph poem. So first I wove Warning with a purple weft.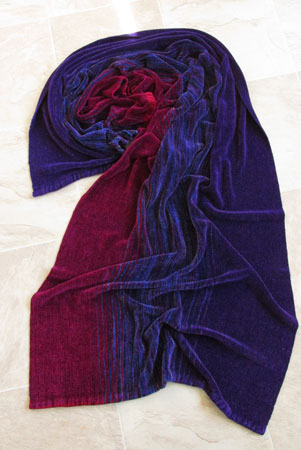 I loved it! I was sure I wouldn't like the burgundy weft nearly as much, but as it turned out, I was wrong.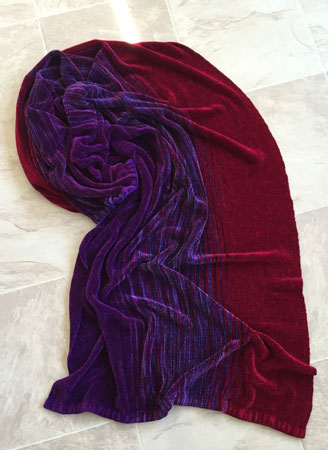 I think I like it even more.
Although the colors are more accurate in their individual photos, here's a comparison of the two.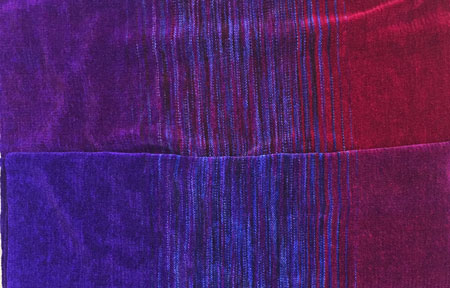 After the saturated colors of these two shawls and the recent At The Lake series, I decided I should do something in more muted earth tones, so warped for 2 more shawls. Here's the first one one the loom…sorry I managed to cut off the right side of the warp, with a gradient from the coral-y orange to an orange-y brick. But at least the colors are pretty accurate in this photo.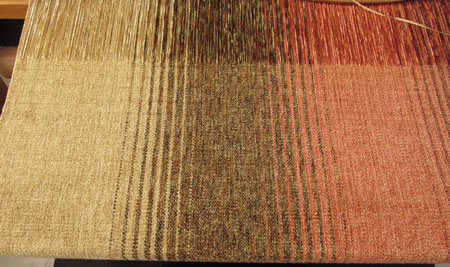 I ordered black rayon chenille and am going to weave a warp of 2 rainbow shawls when these earthy ones come off the loom. I don't think I've woven any for at least 2 years, maybe more. Then I'm going to be done with rayon chenille shawls. At least I think so… 😉