I wasn't lost in the process for the past week, but rather taking a mini-vacation, visiting a wonderful friend from high school who lives in West Virginia. No weaving, no gardening, no work. Lots of great food, wonderful conversation, and laughter. Back on the home front…
I remember many years ago when I saw Martha Stewart on TV talking about how she ties up her daffodils after they bloom to keep her garden looking neat. "That woman has too much time on her hands," I thought. "And she's crazy." Well, look what I did this afternoon.
I have so many daffodils and so little garden space that the daffies took over. Although this is a large sedum (I think an Autumn Joy), you couldn't even see it because of all the daffodil foliage. And who knew there was a tulip in that bed? I think I need to divide some of those daffodil bulbs in the fall so I get more flowers, but for now, I just needed to (a) keep the daffies alive and (b) give the sedum some sunlight!
For some reason, when I was done, these tied up daffodils reminded me of spoolies. I bet most people don't remember these little rubber curlers, and don't know why I did.
Before I left town I finished preparing my north garden for planting. I worked in many buckets of leaf mulch and smoothed everything out. I've since planted/moved a few hellebores (Lenten Rose) and pulmonaria (lungwort).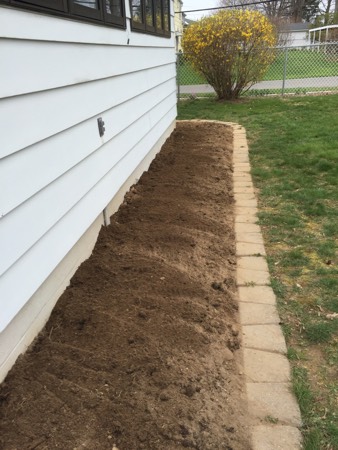 Yesterday in addition to mowing my lawn, I spent almost 3 hours outside assembling a glider chair my daughter kindly bought me. (She thought my little arm-less camp chair was depressing.) Although a bear to assemble, it's wonderfully comfortable. Since it's made of composite, it will weather fine 3 seasons; I'll move it into the garage for the winter.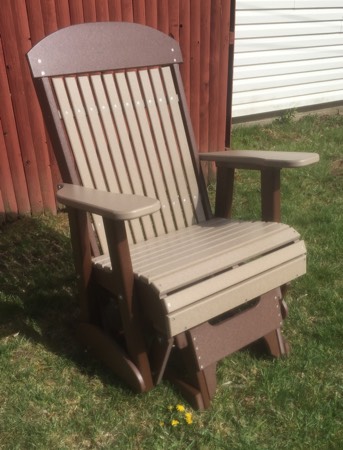 Before I left home I also got a bunch of weaving done. The warps I'd recently hand painted were calling to me. I thought I'd start with my favorite one, but interestingly, it was my least favorite that kept sticking up its hand and saying, "Pick me!" So I did. This warp is mostly purples and greens with some blues and an occasional yellow tossed in for good measure. This is the one that I experimented with, painting different colors in the same section. I needed to see how this worked. I decided on an 8-harness complex twill.
First up was a royal purple weft, in 20/2 rayon. I love it.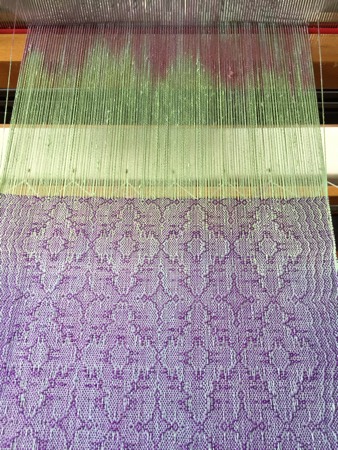 Next I used 60/2 silk, doubled, in a baby blue. The weft is very prominent in this scarf, so all the warp colors are very subdued. But it will surely be the scarf with the most sheen.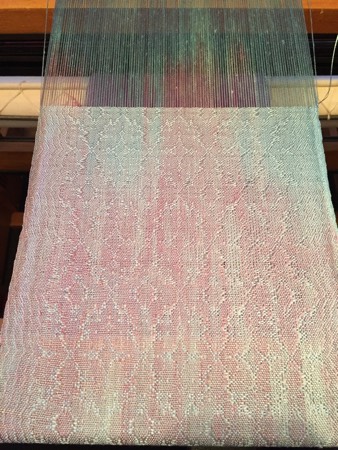 Last I used a celery green cashmere silk blend. I liked this scarf as I was sitting at the loom, now I'm not at all sure.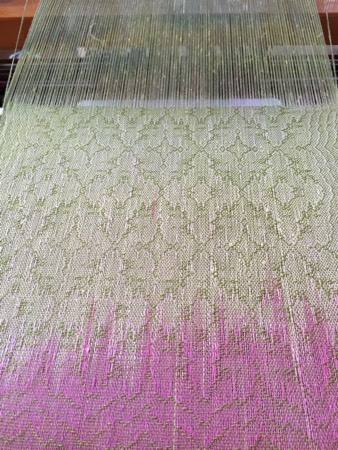 I have now removed all 3 from the loom, fringed, and wet-finished the scarves, but still have to press them. Once that's done I'll give you my best 'glam' shots of all 3.
I've also done my first run at the next required weaving for the COE: a color gamp. That means I used 12 colors in the warp and the same 12 colors in the weft – in this case in the same proportions – so that you can see how the colors interact. It's drying now and will then need to be pressed as well so I can determine if I need to try again to make the weaving perfectly square. (Sorry the photo is out of focus. Squint and it won't look so bad.)