I'm starting a new club. It's called I Hate To Needle Weave (IHTNW). Feel free to join me. There are no dues, no meetings, no formality of any type. The only membership requirement is that you, too, hate to needle weave.
I cut 2 baby wraps off the loom yesterday. Post loom there are a few steps that must be accomplished: machine stitch a straight line to prevent fraying, cut beyond that line, hem, and then inspect for any weaving errors. (After that comes labeling, washing, drying, and pressing.)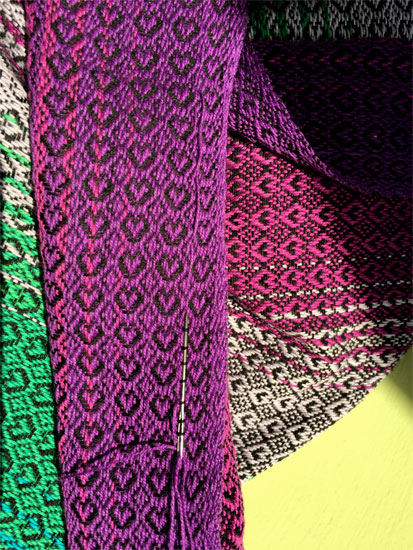 ARRGGHHH!! One selvedge of my warp apparently had badly behaved threads! I spent in excess of three hours needle weaving corrections to one of the wraps – the second on the loom. The first had many fewer problems because that thread was mostly behaving itself – mostly. It started developing the tension problem about half way through that first warp, and it gradually got worse.
What is needle weaving? It's using the same thread that you wove with and a blunt tapestry needle to correctly weave any places in the warp or weft where there were threading or treadling errors. Or in this case, poorly behaving threads.
The only way to prevent any needle weaving? PAY ATTENTION AT THE LOOM AND AVOID ERRORS! Sure wish I'd done that!