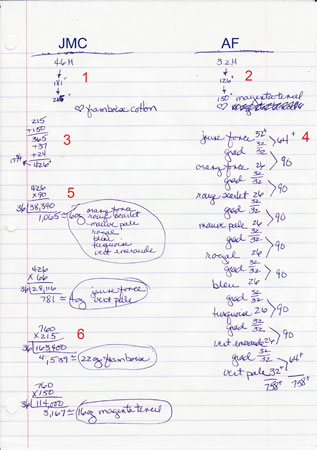 I thought it might be enlightening for both baby wrap moms and weavers to see what's involved in preparing a yarn order for my baby wraps. To make the yarn purchases most cost effective and to get a decent supply on hand, I always order the yarn for 2 warps (usually 4 baby wraps) at one time.
The first page starts with the first 2 moms to go on the loom, in this case JMC & AF.
Step 1: go to my records and get the finished length JMC wants. That's always given to me in meters (4.2M). I convert that to inches, (181″), then add on to that for the length I need to weave to allow for shrinkage (215″).
Step 2: do the same thing with mom #2.
Step 3: add those two lengths together, then add on the take up & loom waste (non-weavers: you have to put more on the loom than you need; it's all about the weaving process).
Step 4: go to my records and get the color names & color order of the warp. Calculate the number of threads of each color needed to achieve the design. (This is actually a double-check; I already did it when planning with mom.)
Step 5: take those thread counts and determine how many yards of each color are needed for the warp. Then figure out the number of ounces of each color.
Step 6: calculate the number of yards and ounces needed for each of the wefts.
Now do the same thing for the other 2 baby wraps.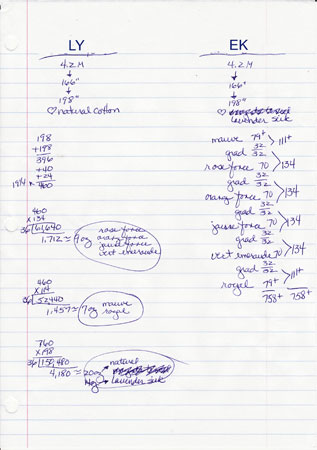 Now that you know the number of ounces needed of each color, get another piece of paper. Record each color name & number, by warp, and the number of ounces needed. Add these columns together to get a total amount needed.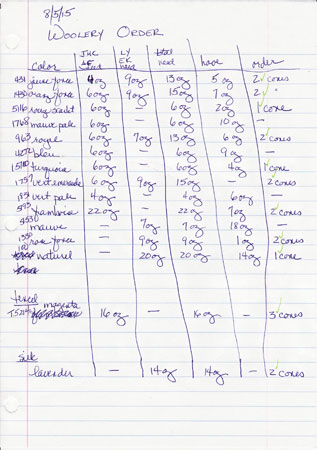 Go to the shelves and weigh each of the colors of yarn on hand. Subtract that amount from the total need to determine the amount to order. The last thing you want to happen is to run out of a color when you're warping or weaving, so BE SURE TO HAVE A CUSHION – ORDER EXTRA!
Now you can finally go to The Woolery and place your order. I always do my ordering online, and I do it by starting at my Guild's Facebook page. Why? The Woolery has a Guild support program, with the Guild getting credit for a portion of each order placed this way. Since I order a lot of yarn in a year for my baby wraps, I'm happy to help out the Guild…it's a win-win!
Of course, this can only happen after 4 moms have completed all their planning — warp colors and layout, weft colors, weave pattern, and length. So there are hours to get to this point.
I placed the order for the yarn for these 4 wraps on Wednesday afternoon. It will be the first yarn order to arrive at my new house – a milestone!