First the soft…it's the water. Although I've taken showers at my daughter's house here in Rochester over the years, I hadn't fully realized how much softer the water is here than it was in my spring and then well in the sticks. It makes a noticeable difference in my hair — much softer than before. Of course, after a day I can't tell the difference, but still….
Next the hard…the woman I bought the house from used to do a bunch of gardening, but in the last several years that wasn't possible for her. I have a landscaper coming tomorrow to give me an estimate and his ideas about the removal of a tree & some shrubbery and replantings. I have a list of ideas of my own, but want to see what a professional might offer.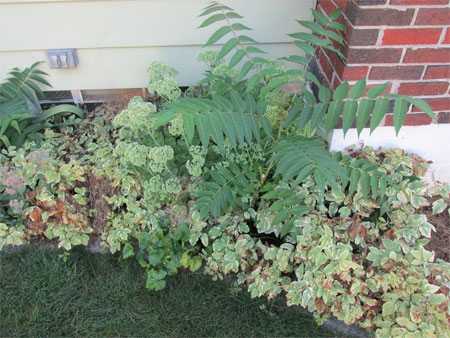 Work that I'll do on my own is weeding and replanting perennial beds. Much of the house is surrounded by bishop's weed. I don't know about the bishop part, but weed is certainly correct. This plant spreads really well, and has the kind of roots that break easily when you try to pull or dig it out, so it takes a few years to really get rid of it. Here's a before picture of an area I haven't gotten to yet. You can see there's also some fairly substantially-sized sumac growing. Took years to get that big, and isn't easy to dig out those roots, especially since they're so close to the house foundation. You can't even tell that there's a nice edging there, can you? I work for about 45 minutes and get what I can do in that time, then move on to another task so I don't over-stress my back or other muscles. Plus, the sweat is literally dripping off me by then. This morning I chose 6AM to do the weeding…much better than 6PM for heat & humidity.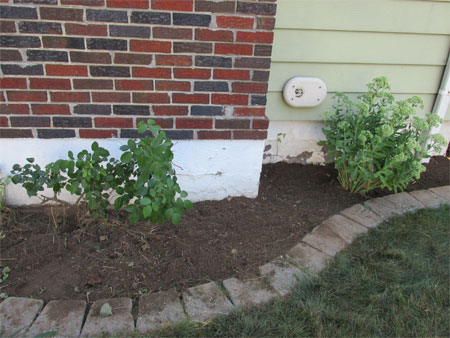 And a shot of a section I've finished weeding. In addition to giving the nice plants, here a tall sedum and a rose that were barely peeking out of the weeds, I have found literally hundreds of daffodil bulbs. I've replanted over 300 bulbs of varying sizes, so the foundation will be a riot of color next spring. I'm hoping that there's more than one variety there, but only time will tell. And there's no clue about the rose — I'm hoping for one with a great scent, which is more compelling to me than color. With all that weeding I had to order a compost bin; I can't in good conscience send all that plant matter to the landfill. I may not compost my food scraps here in the city, but I will definitely compost plant matter, leaves, grass clippings, and the like.
After spending (waaaaay too many) hours online in the last few days, today I bit the bullet and made decisions, ordering a rug for the living room and another for the spare room. Hope I like them when they arrive!
And the good…yesterday I got 2 bouts of the first baby wrap warp measured on my warping mill in my new studio. These colors are sooooo cool & refreshing on a hot day! (I buy all my cotton for the wraps from Maurice Brassard, a Canadian company, so the names are all in French.)
Bout 1 is vert pale to vert emeraude to turquoise.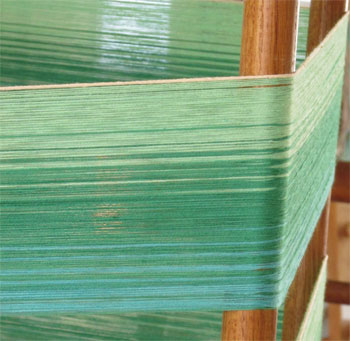 Bout 2 is turquoise to bleu to royal.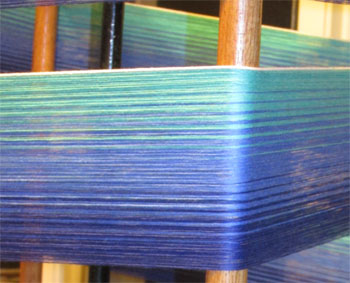 It's such a pleasure to wind the warp in the same room as the looms, especially since it's so bright & airy. No winding today, but I expect I'll get 1 or 2 bouts wound tomorrow. Along with more weeding, meeting with the landscaper, and who knows what else.