When I'm measuring the warp for my baby wraps, I have to make 4 'bouts' or groups of threads. Each bout is roughly 190 threads wide. Not only is that the capacity of my warping mill, but wider bouts tend to cause beaming problems.
I take those bouts over to the loom, insert the lease sticks (here they're 2 small PVC pipes – so smooth that no threads EVER catch on them), thread them on to a rod and tie the rod to the back beam. Here's how the warp for JS & YY looked at that point.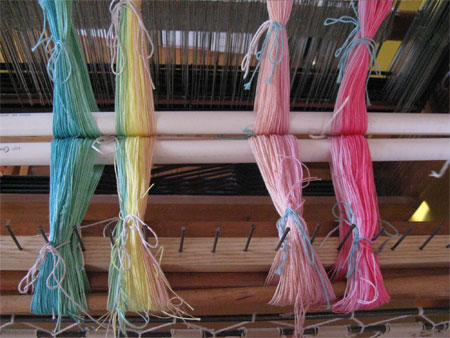 The next step is spreading the warp to the correct width, using a tool called a raddle. (That's the board with the nails in it, which I've clamped to the loom with Irwin Quick Clamps). I've done that here.
From left to right, the warp colors are turquoise, pale green, pale yellow, peach, pale pink, and dark pink. Looks like a selection of sorbets to me. Yum!
After that I use my warping valet to beam the warp – that is, wind it on the back beam under tension. Got that done today, too. I'll start threading tomorrow.