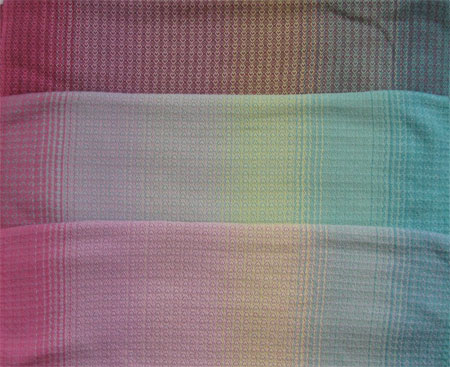 On Saturday I finished the weaving on JS & LYY's wraps. I cut them off the loom and took them to my sewing machine. Things went okay for the first 5 straight lines I needed to sew. On the 6th my presser foot start jumping – the problem that caused me to trade in Mom's Riccar for a new Janome in October. What?! How can that be?!
So I got out my instruction manual and followed the directions to remove the foot plate and clean out the inside of the machine. I put it all back together, started sewing, and bam – the same presser foot jumping! I was both frustrated and angry. After all, I had taken some of my fabric to the store with me, and shwon the salesman exactly what I needed to do. This machine is only 3 months old and having the same problem?!
I called the store where I bought the machine, got a very calm man (not the one who sold it to me) who assured me that since the store was closing in an hour and I'm 40 minutes away, if I brought the machine in on Monday they would fix me up while I waited. Bah! I didn't want to wait until Monday to be able to hem, wash, dry, press, & label these wraps!
Without much hope, I thought maybe I should try taking off my walking foot and putting on the regular presser foot. Amazingly, the machine ran smoothly – no jumping – and noticeably more quietly with the regular presser foot. Huh. I wonder if there was really a problem with the Riccar or if I got a new machine needlessly. Oh well. I can't worry about that.
I figured why not take that walking foot apart clean that, too. Mistake! The guts fell out in many pieces. That walking foot is dust. Since it apparently had a problem I wasn't upset about.
Anywhoooo, using the regular presser foot I got the last straight stitch line done, the hems sewn, and the wraps into and out of the washer & dryer. On Sunday I got them pressed & labelled, packaged and ready for the mail. I brought them to the post office today.

I like this picture. From left to right is a 2.1M wrap with a lavender Egyptian cotton weft, a 3.4M wrap with a seafoam Egyptian cotton weft, and a 4M wrap with a burgundy tencel weft.
A bit of a positive note: the 2M wrap was getting shipped separately so I could squeeze it into one of those padded priority mail envelopes from the Galeffi shipment.
Next up – a scarf warp that I hope will serve me well for jurying.