So far I've made 7 toys for Christmas. I guess it only makes sense that one would be a real loser. It's the latest one I made.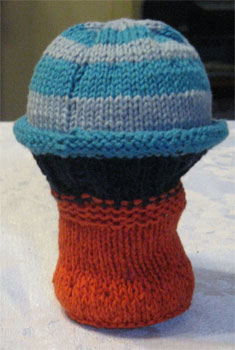 I wanted it to be made of cotton so that my new grand-nephew could put it in his mouth, so I used 3 strands of 8/2 cotton & size 3 needles. Too big. They look so cute in the directions, and are about 4.5″ high. Mine is big and clunky, not cute, and is at least an inch higher than that, probably more.
I have to sit on it for a bit and decide if I'm going to remake it with size 1s or 2s, or make some other type of rattle for him. I've already mentally committed to and started another toy for him, too, but it'll be bigger. Plus it's made of acrylic yarn, not so good for chewing on. The rattle should be something he can hold pretty soon and enjoy.
By the time I have 2 minutes to myself on Monday evening I should be able to make that decision. All I know now is that I'm not sending this toy along.