I've wet finished those blue towels, although they still need to be pressed. With these and the other towels I'll have to make an appointment with my iron very soon.
I wove 5 of the towels with multi-color wefts. They're all a bit different but very similar, so here's one of them.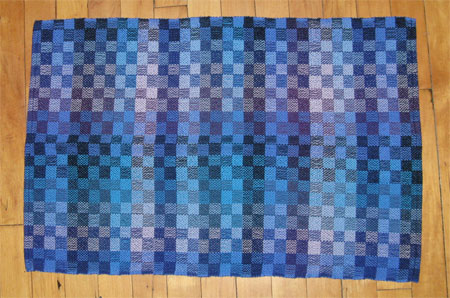 I like them, a lot, but we'll see how they sell. May not go with people's kitchen decor.
I wove the other 3 towels with a single color weft, using the same treadling pattern for each of them. Here's the one with the darkest weft, my personal favorite.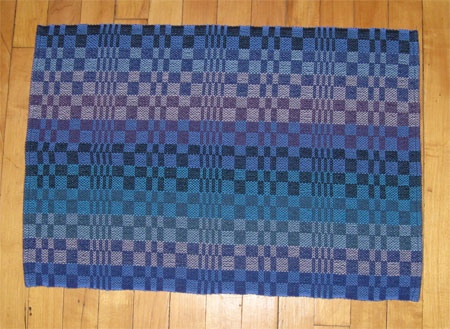 Then I got the warp wound for KM & SB's baby wraps. This is the first bout.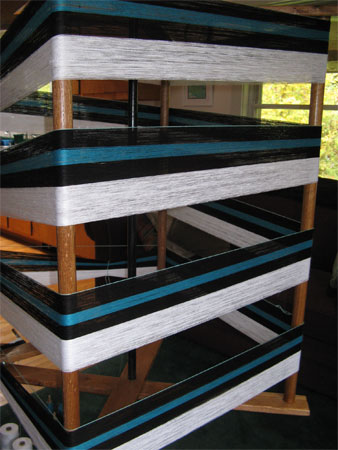 I've since got it all wound, beamed, and I'm half way through the threading. The warp is cottolin. This was the first time I've used it for warp, and I was a bit worried that the linen would make it challenging to beam, but it went on as smoothly as 100% cotton. Whew!
Today I also made 85 mini meatbulbs (as my grandson calls meatballs), a pot of homemade spaghetti sauce for them to simmer in, and 2 casseroles full of eggplant parmesan. I have company coming on Sunday & didn't want to cook then, and I'll be out for a bit at my fiber arts guild tomorrow, so today was the day.