I have the 3 blankets hemmed, washed & dried. All I need to do now is the hard press. I used a straight twill threading & treadling for all, and I'm quite pleased with how soft they all are.
Here's the first one, the custom weave for TB.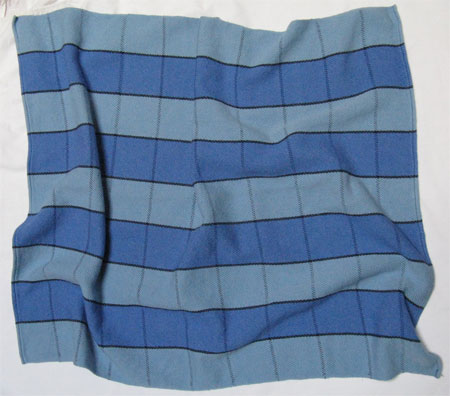 The warp colors are cobalt, bleu, & thin stripes of marine; the weft is cobalt with the thin marine stripes. TB specifically wanted a rolled hem, not binding, so I had to choose which would be the 'right' side when I made that hem. I opted to have the side with the deeper colors, what you saw from underneath while still on the loom, be the right side.
Here's my niece's blanket, same warp, woven with all 3 colors in the weft for plaid.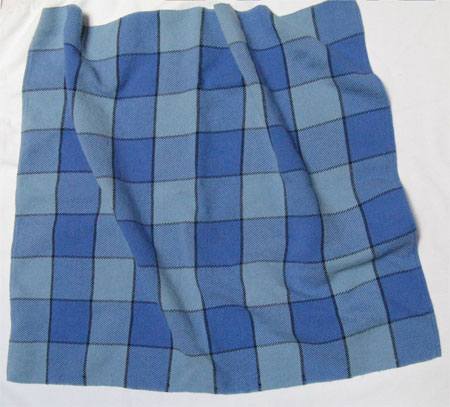 My niece is pretty serious about the materials for her soon-to-be-born son, so I opted for a rolled hem for her, too, not a polyester satin binding. Again I had to decide which was the right side, and again I opted for the brighter side.
Finally, here's the 3rd blanket I wove on this warp to have in my stock for shows. This is the only one I photographed with both sides showing so you can see the difference.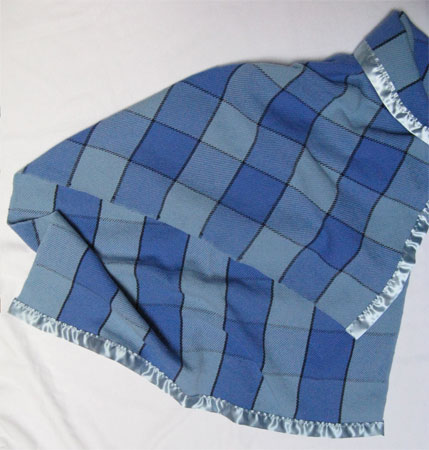 I opted to bind it, and I'm not sure that was a good decision. That binding is far more pucker-y than I'd like. Should I take the binding off and try again? Should I revert to a rolled hem? I haven't yet decided & I'd love your input on this.
I had to buy a new sewing machine….the one I inherited from my mother was behaving badly, despite regular servicing. All I need to do is forward, backward, & zigzag. No fancy stitches needed. So I opted for a Janome model that is supplied to schools.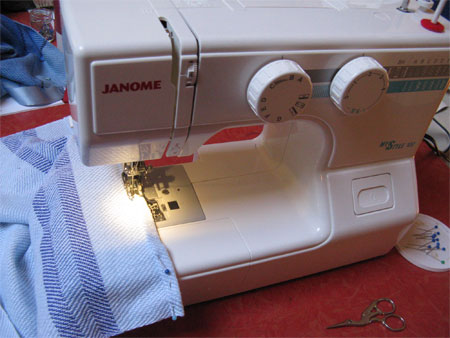 It didn't like sewing that slippery binding. As guided by folks on the internet, I reduced both the tension & the stitch length, which definitely helped. If I have to do it again I'll try with the tissue paper in there, too.