I've been making good progress indoors and out without making myself crazy.
I finished the warp of three silk 'huck checkerboard' scarves, one of which was a special order. The one with the natural weft, which I was hoping would show off the checkerboard pattern of the design, was a bit disappointing to me. I don't know that the design shows up any differently than the ones woven with all bleached yarn. Oh, well.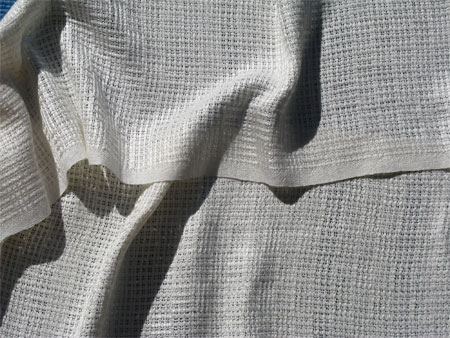 Then I finished the two Siberian iris beds. They look quite good mulched. I've left all the seed pods, since I want them to drop their seeds into the beds to make more iris. After that I'll cut them off so Pfeiffer Nature Center can use them for their holiday wreath decorations.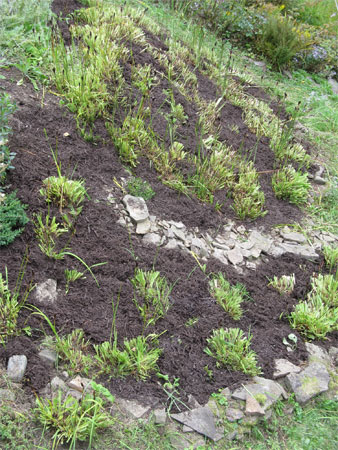 I got my main peony bed finished – it's shown half done here.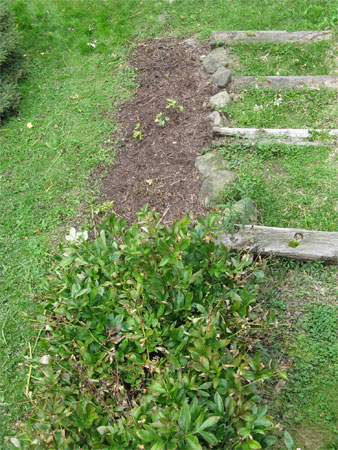 I cleaned up the pachysandra and rock area in front of the house and have been working on other areas, too.
I also got a towel warp on the counterbalance loom. I tried some turned taquete, inspired by iowaweaver. I was incredibly frustrated at first, having all sorts of tension issues. I wove one towel, cut it off, and retied. I still had lots of tension issues despite my attempts at loom adjustments, and had to walk away from the loom. When I returned the next day, I realized that all the things I'd done to try to improve the tension were exactly opposite what I should have done. When I corrected them, the tension was perfect!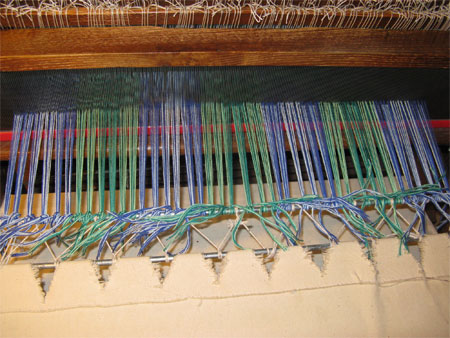 I wove another towel and decided that the sett was far too loose at 20EPI. I cut off again and resleyed to 24EPI. That seemed perfect, so I've since woven another 3 towels. They're all a bit different, and I'll show them all when they're off the loom.