I really do like the way that JM's warp looked and felt after wet finishing and pressing, too. The texture is still really obvious.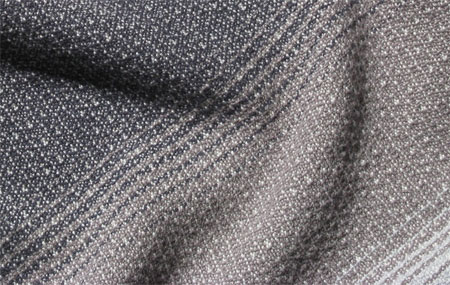 When I pulled this wrap out of the dryer I was surprised. I don't usually look much at the 'wrong' side of the warp when I weave. For most of my work the front & back are very similar, and I focus on the side I see so that I can notice any weaving errors as I work.
Well. The two sides of this weave pattern are quite different. The colors are so much more intense on the 'other' side of this wrap.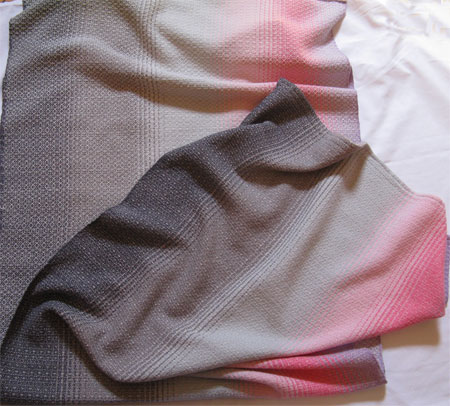 I saw the light side while I was weaving, but decided that the dark side was the side I'd make be the front when I hemmed. Those colors look great. Add the texture and it's a winner, IMHO.
JM has been a sweetheart. I've mailed it to her and she thinks she can wrap with it; if not she's going to make it into a sling ring.
So I jumped right back on that horse and wound the warp for my next two wraps – MG & TA. I can't tell you how many times I counted the number of winds around that warping mill – many, many!
I put my head down and got the warp beamed, heddles and reed threaded, and I now have about 18 inches woven.

I really like the color progression. From left to right they are mauve, pale mauve, magenta, fuchsia, and salmon. I haven't used the salmon before, and I'm impressed with how well it plays with the fucshia. Salmon isn't always a color that appeals to me, but Brassard's salmon is a lovely color.