A, who's getting the sister wrap to the gorgeous rainbows you've already seen, asked me if I could weave a slightly different design for her. She sent me an image of a hearts & flowers weaving draft, saying she couldn't find anyone who could weave it for her.
The design required only 8 harnesses, but the way she showed it needed 11 treadles, more than an 8 harness loom has. No problem….several of the treadles were tied up identically. So I modified the tie up and the treadling sequence and we were good to go.
A wanted me to start her wrap with my standard hearts tie up, then switch to her pattern. Look how nicely that worked out.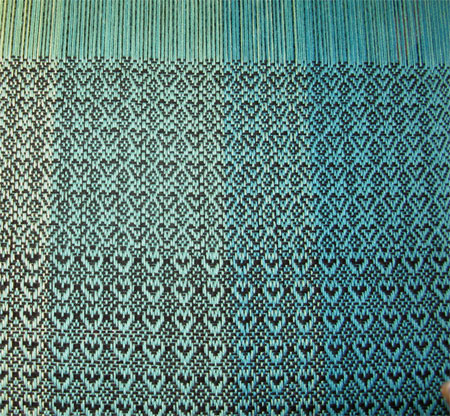 Isn't it interesting that the hearts themselves are offset from one pattern to the next?
Then she asked for an alternate treadling for several inches in the center of the wrap. Again, no problem, as long as I didn't have to change the tie up again. I showed her 7 options, and she picked the one she liked best. I forgot to take a shot showing the transition but here's the center treadling pattern.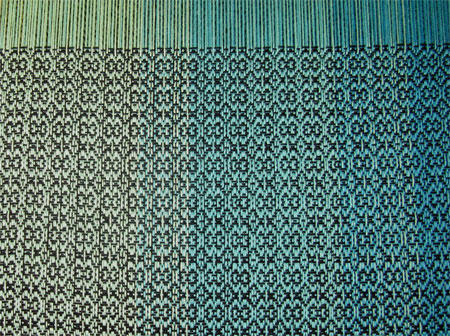 I should be able to finish these two wraps on Friday. Then I have to try something in prep for my community weaving project.