Today I'll start measuring the warp for EJ's wraps. She's ordered two – one with a natural weft, one with peacock.
Here are what her warp yarns look like before I start. Aren't they lovely?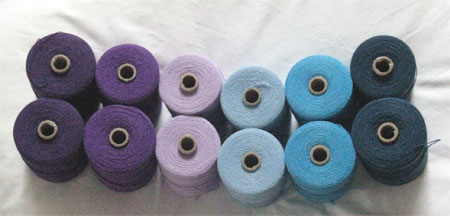 From left to right it's mauve, mauve pale, lilac, bleu cobalt, bleu moyen, and jeans. Yummy!
As planned, yesterday I measured a warp for my never-used-by-me rigid heddle loom. It's much larger than the one I bring to shows – maximum width in the reed is about 24″. My neighbor forced it on me at her yard sale for a grand total of $3 – along with the original instruction booklet and some yarns. It's an Erica loom, made by the Northfield Loom Company in the 70s.
I threaded the loom, tied it up, and experimented. I learned that it is definitely not as good as my lovely LeClerc rigid heddle, which has rachet & pawl brakes on both front & rear beams. The Erica has neither. But it will hold tension.
I also learned that I need to change plans. Although this loom would, at least theoretically, work as a tapestry loom, that's not what's going to work for my community weaving project. Takes too much time and skill. Instead, we're going to do Saori weaving at the community concerts. It's much more 'stream of consciousness' weaving – which colors & fibers move you right now – which makes much more sense to see if the music impacts the choices. It's also a simple plain weave, which means it will be infinitely easier for people of all ages and skill levels to be successful. I went back to the project narrative I submitted, and find that this change in plan is just fine with what I wrote. So that's what we'll be doing. Feels good to have that decision made.