Every year Meg over at Unravelling asks weavers to post photos of their looms on New Year's Day. In all their glory — or not. No glamming things up for the shots. Here are my looms, now numbering four (gasp!) as is and where they sit.
First in my home and my heart, my beloved little 4H counterbalance loom.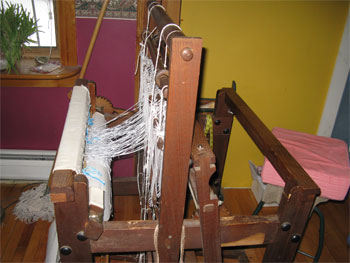 I took my cityscape scarf off this loom on Monday night. I'll post about that soon. So the loom is waiting for my next project, which I'll be starting today.
Next up is my 8H Macomber.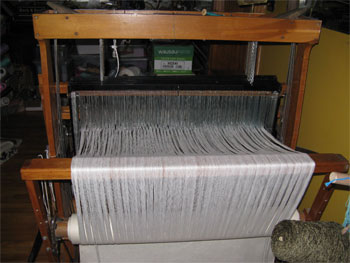 Mac and I took a good long time to become friends; I had to experience other looms to realize the benefits of the Mac. Here it sits with enough warp for a baby wrap; I'm awaiting feedback from my testing mamas on sample wrap #2 before I tie it up and weave it off.
Third is my LeClerc rigid heddle.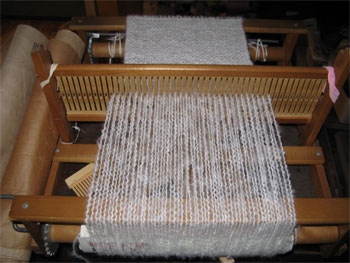 I really only use this loom to demonstrate at shows. I warped it up with white mohair, planning to weave it at the Roycroft winter show, which I had to miss due to my nasty stomach bug, so it sits in its spot on top of my bookshelf just waiting for me. It'll likely wait a good long time.
Last, and least I'm afraid, is my 4H Missouri.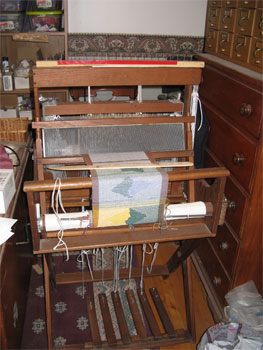 In fact, this loom is so far from top-of-mind for me that I had started this post when I realized I hadn't taken a picture of the Missouri. You can see it's sitting between a table and a dresser, as out of the way as I can make it. The warp on it is from the pick-up workshop I did with Su Butler last spring.
I'm sure I won't finish this sample warp. I should just cut it off so I can fold up the loom and at least be able to get into that dresser. Why haven't I?? Maybe doing this post will inspire me to do that. I could even carry it upstairs and cover it from dust — that'd really be out of the way. I'm gonna go do that, right now.
Wishing you all health & happiness in 2014.