I haven't been blogging but I have been weaving. And doing some garden cleanup. And visiting my grandson. And working my increased schedule at Pfeiffer Nature Center. I've been busy, can you tell?
Weaving-wise, I stayed on my hand painted bamboo-cotton kick for a while longer. This time I was using a thinner yarn, an 8/2 cotton. This yarn has 3,360 yards per pound vs. the 1,680 yards per pound of the yarn I used earlier – twice as thin. (In fact, I'd never realized before I was writing this entry that the typical bamboo-cotton is a 4/2 weight.) It was also in a colorway I hadn't used before, one that Tammy calls Blue Spruce. For the scarf on the left I used a weft Tammy dyed for me in solid Emerald; on the right is a solid yellow.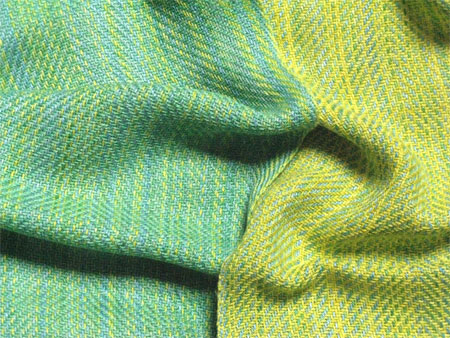 Personally I find the yellow far too bright. I could never wear that color – it would look really awful with my skin tone.
Then I wove with an alpine blue, on the bottom in the photo – lovely, at least to me. Finally I decided to weave a plaid-ish one. Because the warp is variegated I couldn't do a true plaid, so I went with consistent blocks of color in the weft. As I was weaving it I wasn't at all sure I liked it, but once it was done I thought it was fine.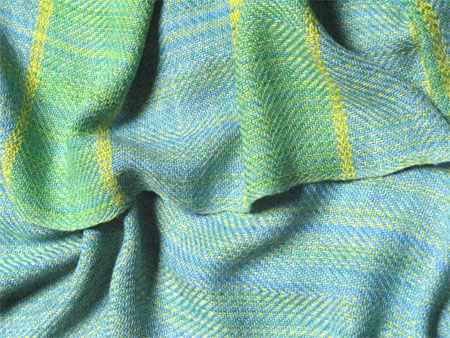 After weaving these four I decided to go back to weaving with Tencel and tried out a 4 harness pattern for pinwheels. They were both less of a pain to weave and less delightful as finished products than the 8 harness pinwheels. Then again, maybe they would have been more striking if I'd used black & white instead of dark coral & sienna.