I'm really becoming very good friends with my Macomber loom. I'm more comfortable with everything about it, from warping it to threading the heddles, doing the tie up to dancing across the treadles. So I decided to go for it and do another pattern I've been admiring for some time and wanted to try.
Like all my weaving, once I have the pattern worked out and the threads chosen, I start the manipulation of the fibers at my warping board. This is how I make sure that all of the threads are exactly the same length. I always like the way the warping board looks with the threads all measured out. It's all so symmetrical, so angular, so neat and orderly, so I decided I had to take a few photos. This is 197 threads of red-violet rayon.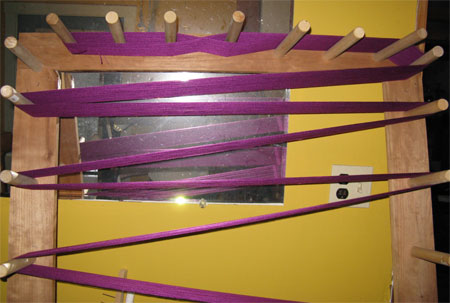 I got it on the loom, threaded up, and started weaving. Susan Harvey over at Thrums taught me several months ago that this is a classic Swedish drall pattern. Those words didn't even make sense to me, so Susan graciously gave me some info and I did some online research. Then I worked with my computer program to work out how to achieve the look of the contrasting blocks of color. The pattern is very simple, but since I'd never done it before I had a hard time figuring it out.
For the first scarf I paired that red-violet warp with a dark jade green weft. The colors are much richer than they look in this shot. But I was soooo happy with the way the pattern was working out that I didn't want to spend a lot more time playing with lighting and taking more shots to get the color more accurate.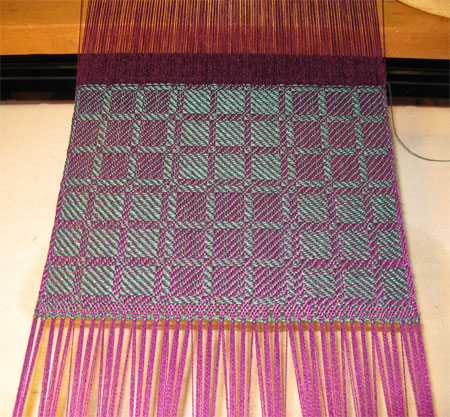 Next I used a periwinkle weft, giving and overall much lighter look to scarf.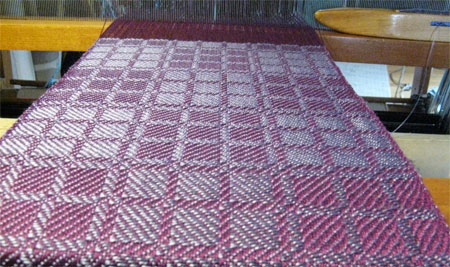 For the third scarf I used a turquoise weft.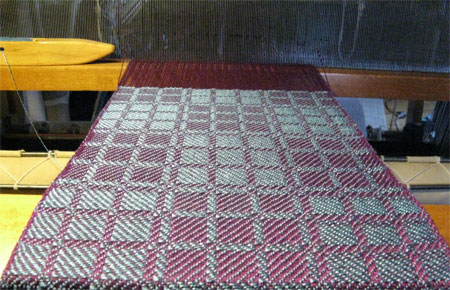 This went so well that I jumped right into the next warp – gemtone stripes, again in rayon. Here it is on the warping board. I'll just tell you that everything about this particular warp was problemmatic. Some warps are like that. You just gotta keep moving forward.