Despite the fact that my grandson gave me a terrific virus (a trade I'd make again in a heartbeat for a chance to watch him), what can be sweeter than cuddling a little one? Not much, in my book.
I had a customer request a handwoven baby blanket for her new preemie granddaughter. Particularly because the baby was a preemie, softness was of major concern. She also wanted something in the palest of shades, using pink, white, and blue, so that the blanket could be used equally well for a future sibling.
We settled on a hand painted blend of bamboo and cotton yarn because it is both remarkably soft and machine washable – critical for baby things. Tammy happily did some more custom dyeing for me while I drafted an 8-shaft pattern on my Fiberworks software. Here's what I came up with.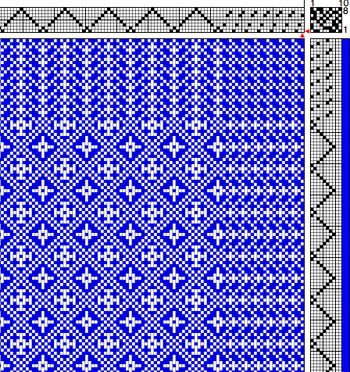 A pretty straightforward threading and treadling pattern, and one that (a) has no floats longer than 3 threads (I sure double-checked on this one after my towel error!) and (b) emphasizes warp color on one side and weft color on the other – a feature that always appeals to me.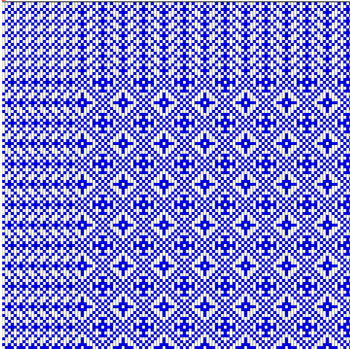 In fact, I like this draft well enough that I believe I'll use it for some scarves in the foreseeable future.
I measured up my white warp yarn with enough length for three baby blankets, threaded my Mac (there's a bit more story there, for the next post), and was off and running.
Because of the subtleness of the colors on the custom blanket, it's not as easy to see the pattern as it is in the draft. But you can tell how soft the fabric is.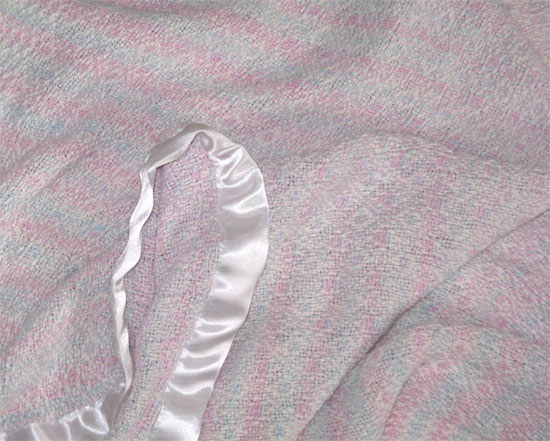 Always happy to weave what my customers want, my personal preference is for brighter colors for babies. So I wove a bright green weft for the second blanket…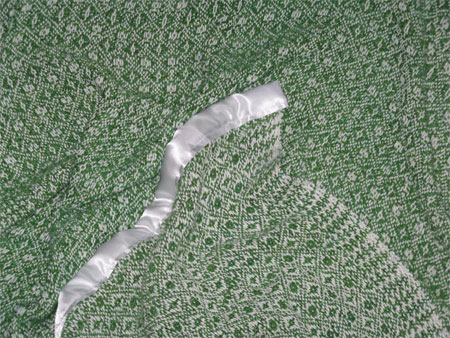 …and a bright mulberry for the third.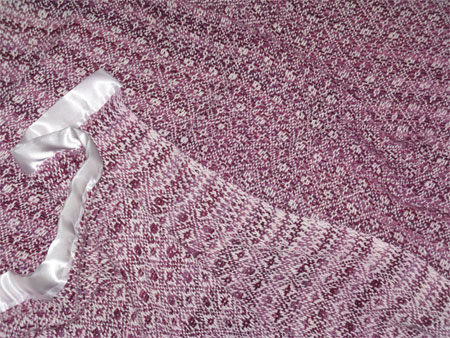 On the brighter colors you can see the pattern better, and see how each side has a different predominating color. I think you can also see that my binding is a bit more "wrinkly" than is ideal. I worked all my prior binding magic tricks with some limited success. I think that it's because the fabric is sooooo soft it made it more of a challenge. It was a compromise I was willing to live with.
I'm on the mend – just a bit of stuffy nose and occasional cough left hanging on, so I'm back to weaving. Unfortunately not as much as I'd like, since that means I'm back to my paycheck job, too. Ahhh, the trade-offs we make in this life ! 🙂
Meanwhile, I'm loving our beautiful spring weather, and EXTREMELY grateful that we've not been struck by any of the weather terror in other states.
Your turn: what are you grateful for today?