I recently had a customer who wanted me to weave her a solid black rayon chenille scarf in a specific size. No problem. As usual, I warped for three scarves. I wove my customer's solid black, plus another solid black, since I had no more of them in stock.
I had another idea for the third scarf. I so love the handwoven shawls I've made rayon chenille rainbows, I thought I'd try a different twist. I'd use the same rainbow concept, but switch the colors along the length of the scarf instead of across the width, like the shawls.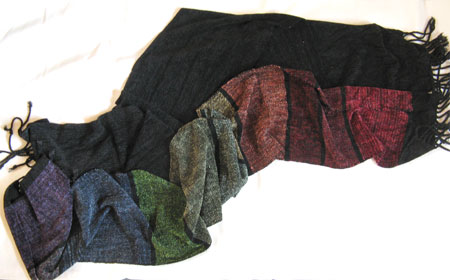 Hmph. There's no comparison. The shawls are so striking, so beautiful, so rich. The scarf? It's ok. Period. I would not do this again, either in rayon chenille or another fiber. It just doesn't send me.
Live and learn. As long as I keep learning, and remembering, it's all good.