Magic Kingdom, that is. That was my next choice for weaving scarves. I'd purchased enough of this colorway and its coordinating solids to set up the loom for four scarves, and decided to thread it using the draft I'd just finished with the Cayenne.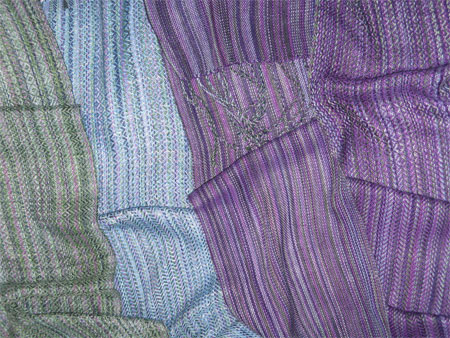 The Magic Kingdom yarn is an 8/2 tencel, so it's a relatively fine gauge fiber with a nice sheen and lovely drape.
I started on the left, and wove a scarf with a solid forest green weft, treadling in pattern for the length of the scarf. Green isn't usually my color, so I can't say how well my customers like it; they don't have many green options. While I like this particular green, and I like the Magic Kingdom colorway, I thought the green overpowered the variegation, so didn't want to do a second scarf in it.
I moved on to the solid azure weft. I like this one better than the green, but it's quite bright, and I thought perhaps something darker would be a better sell. So I moved the scarf on the far right, using a solid dark purple rayon. For both the azure and purple scarves, I treadled several inches of pattern on each end of the scarf, with a straight twill in between.
I liked the purple, too, but thought it was now a bit too dark. I could see that if I did a plain weave the variegation of the Magic Kingdom would show up better, so, after much consideration, decided to weave the final scarf with the dark purple tabby weft. I knew that with the tencel warp and rayon weft, the scarf would still retain a nice drape, even with a tabby weave. It's second from the right in the photo, and surprised me by being my second favorite. (The azure hit number one on my chart.)
I guess one of the things I need to learn from this set of scarves is sometimes simple pictures are best.
I remember reading this book to my preschool class about a hundred years ago. But it's a lesson that I often forget when I'm weaving. I want to do complex designs, and I want to use beautiful hand painted yarn, and those two often fight with each other for top billing. I need to make sure they both get a chance to shine by showing them off to their best advantage.
I wonder how long before I forget that lesson……