I know that the old saying is really warm hands, warm hearts, but for my Christmas giving this year, I modified it to hats. Starting with Rusty's three hats, I was in the hat-making zone. And enjoying it.
Amanda saw a pattern she loved for a 16-cable hat. While international issues made getting the pattern an interesting challenge, I was ultimately successful in doing so. I bought some really lovely baby lama yarn for the hat. Since my yarn was finer than the pattern called for, I had to use smaller needles. I thought I had the gauge all worked out, but when the hat was completely finished, I wasn't happy with the shape. I completely took it apart and added another set of 26 stitches (1 cable pattern) to make it be right. Amanda & I were both quite pleased with the results.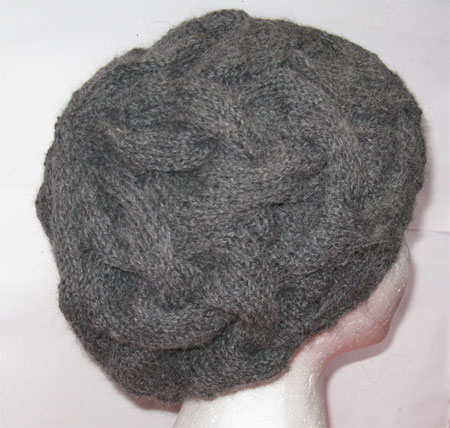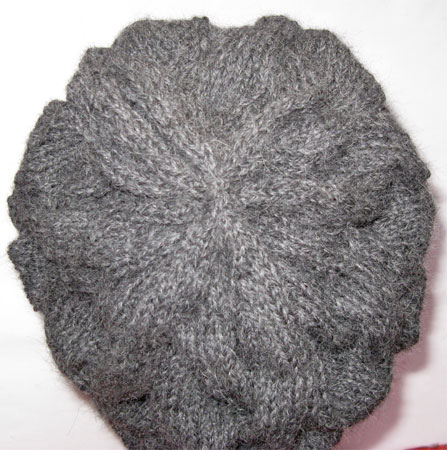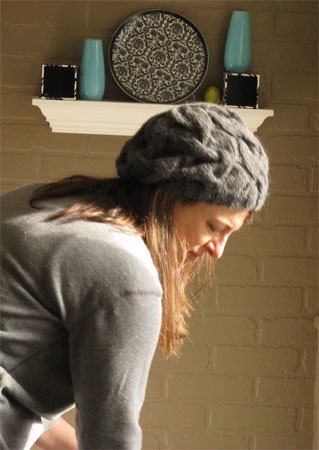 Her sweet hubby rarely wears a hat, but I decided he needed one anyway. After much deliberation (and Amanda's input), I selected a reversible hat in dark colors for him.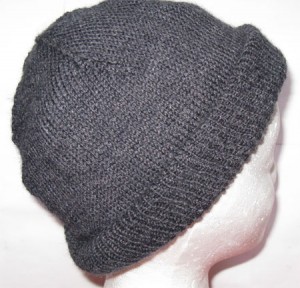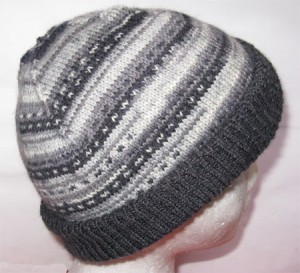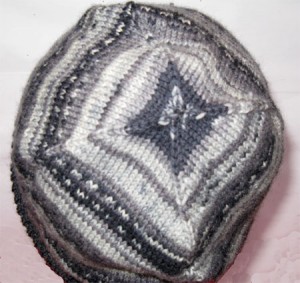 I used Patons Kroy sock yarn for the multi-colored side, and was pleased with how the variegation worked up. I also really liked the pattern's method for decreasing for the top – a very clean look. I didn't get a picture of Ryan in the hat.
I sure didn't want to leave Michael out of the hat gift, but had to think about fiber. He's had plenty of opportunities to wear a hat made of a wool blend, and has always declined – too scratchy for his sensitive pate. I settled on a microfiber (what is that, really? Just a nice-sounding way of saying completely man-made stuff?) Deborah Norville variegation in colors that I thought he'd like.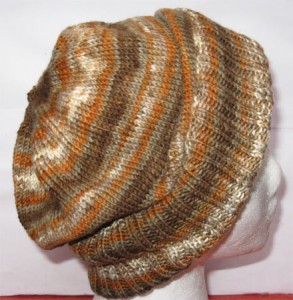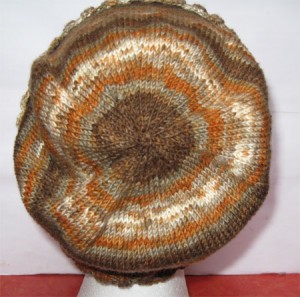 This is also a sock yarn. It worked just great for this hat, giving me just the look I was going for, although I can't imagine making socks out of it — way to slouchy & shapeless. I got another free pattern online for it. I had taken a picture of Michael in the hat, but the lighting was all wrong.
I was really thrilled when Amanda told me a few days later that she'd received compliments on her hat when she was running errands, and that both Ryan & Michael were wearing their hats without any encouragement. It made my little heart sing!
Your turn: did you give gifts this Christmas that pleased both you and the recipient?