I tried a soup recipe from one of my Christmas presents: 400 Soups. It's a Bacon Lentil soup, supposed to be more stew-like. I make a pretty good lentil soup, so thought I'd really like this. Bacon? Come on, how could that be bad?!

Well, I was disappointed. It was just ok. Not hearty enough for my tastes. My soups are my meals, not just one course of the meal.

The soup greatly benefitted from a rounded teaspoon of neufchatel cheese stirred into the bowl of hot soup.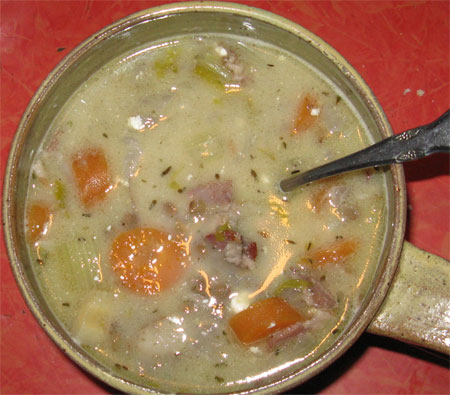 But now I had was should have been a good, healthy lentil soup that had bacon & cheese in it — sort of ruined the low-fat healthiness of it all.
I made another new soup today – Beet, Carrot, Ginger soup. I'll be serving it to my friends tomorrow. I'll let you know how it tastes. And if it doesn't seem too weird, I'll take a picture of it with a swirl of Greek yogurt on top.
Regardless of whether these two particular soups make it into my personal must-do repertoire, I'm glad I tried them. They are one of my (non) resolutions.