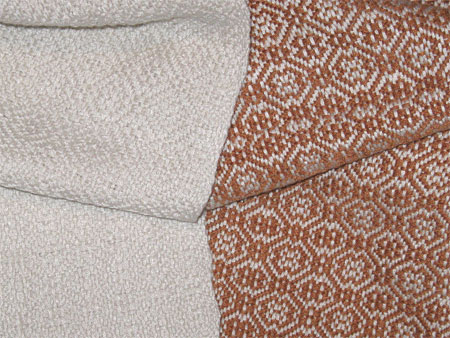 The second custom weaving order was for a handwoven bamboo scarf. Although most of us would call the color eggshell or natural, the yarn manufacturer calls it rice, so that's what I call it, too. I've made this color before, but was out of it, so it turned into a special order.
My customer left the decisions regarding weaving pattern up to me, so I decided to use the Ms & Ws pattern I'd used before to good response. I knew it would look much different in all one color, but thought it would be nice.
As usual, I warped the loom for three scarves. I wove two of them with eggshell bamboo yarn for both warp and weft. For the third scarf, I used an acorn yarn, also in bamboo.
I'm really happy with both of them. And I like the fact that I can easily weave the interesting pattern on my 4-harness counterbalance loom — always my preferred loom.
I'll be putting the two that weren't special orders on my website soon. It's always a balance between doing the weaving and getting the new items listed.
So many tasks, so little time.