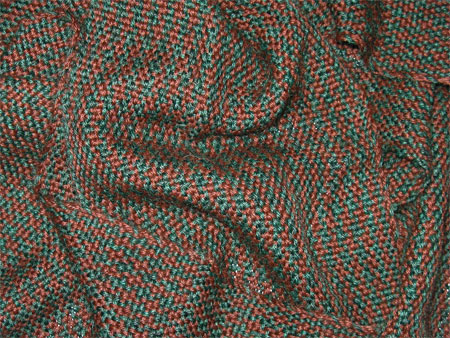 Continuing my custom weaving orders, I wove this handsome alpaca scarf. My customer has a forest green coat with brown trim, and wanted these colors in the pattern I'd woven earlier in the red, gray & black. Since both of the colors in the new scarf are a similar value, the houndstooth pattern doesn't show up quite as well, but the scarf is really quite lovely, nonetheless.
Alpaca is very lightweight and yet quite warm. In fact, if you look very closely near the bottom center of the picture, you might even see a bit of the white background through the scarf. It's woven with a moderate weave at 12 ends per inch for warp and 12 picks per inch for weft, making certain that the scarf retains a beautiful hand and drape. I believe it's the hairiness that makes alpaca warm.
Like the red, black, & gray scarf, I wove this one on my rigid heddle loom. Why? Alpaca isn't one of my big sellers, so I decided to buy just enough yarn for this special order. Once I'd made that decision, I wanted to make the weaving as efficient as possible for both use of yarn and motion. The rigid heddle wastes very little yarn and I've gotten better at warping it, so it seemed the logical decision.
My customer plans to order another skein of each color and have her mom knit her some mittens. I think they'll look great, and hope she send me a photo of them.
Your turn: what are you wearing to stay warm when the cold winter winds blow?