My next completed weaving project — handwoven rayon scarves made with hand painted yarn.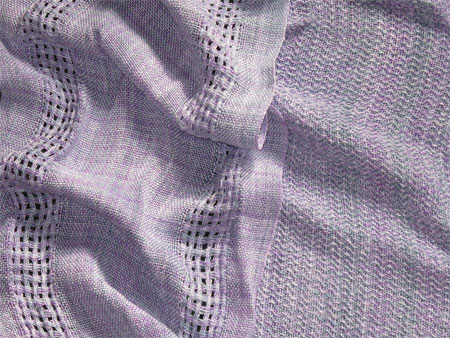 I really like the pastel lavender, green, and cream in this color blend. The Tencel rayon is nice and soft, a perfect fiber for the soft colors in these scarves. I wove two of them with columns of huck lace along their length. I really like the way they look, and will definitely do this again.
For the other scarf, I did a gentle point twill. I didn't want the sharpness of a regular point twill, so at every end of threading, I added an extra heddle of the same number. That is, I threaded 1-2-3-4-4-3-2-1-1-2-3-4-4-3-2-1. In hindsight, I wish I'd threaded so I had longer runs up and down. I could have achieved this by threading in this fashion: 1-2-3-4-1-2-3-4-1-2-3-4-4-3-2-1-4-3-2-1-4-3-2-1, still doubling the 1s and 4s at the turn around points. Maybe next time.
I did post these for sale on my revised rayon page of my website.
Your turn: what would you do differently next time?