I fully intended to have a bracelet be the prize for the September contest, but when I went to make choices, I kept getting called back to a celestial theme.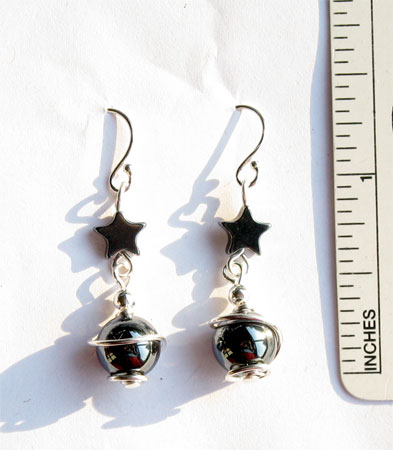 This pair of earrings is made with (manmade) hematite stars. I fancy that the hematite orbs dangling from them are planets, and the sterling wraps indicate their spinning or the rotation of their moons. Like all my silver earrings, they hang from sterling silver earwires.
Since we've been having very clear skies for the past several days, the stars are AMAZING! Being an early riser, I'm more likely to be gazing skyward at 5AM than at 11PM, but regardless of when you watch, they heavens offer great viewing. Before the full moon, I got great views of the Milky Way in the early morning. And it's always a pleasure to me to give a morning nod to Orion, Taurus, and Pleides, the three constellations that I can find and identify easily. For reasons I cannot identify Pleides, sometimes called Seven Sisters, always brings a smile to my lips.
We had a full moon just last night, and after missing it for several months, Margaret & I finally got a great full moon hike in. It was perfect – not too hot, not too cold, perfectly clear, and both knees and backs were in good shape. We loved it, as did our dogs.
As I promised some people verbally at the Elmwood show last weekend, this month's contest is REALLY easy! All you have to do is leave me a comment, on any of the posts I make this month, and you'll be entered into the drawing for the free earrings.
I got this post up late, so the contest will run four weeks, ending at midnight on September 25. Comment on this post, or wait for something that tickles your fancy and comment on that, but don't forget to comment!
In the meantime, if you're anywhere in the northeast, enjoy the gorgeous weather, the return of children to school, and the beginning of the changing of the leaves.