I love my little, vintage, handmade, counterbalance loom. It's quiet, it's easy to operate, and it pleases me greatly. It does have its limitations, however. One being that it has a maximum weaving width of 26″, resulting in a finished maximum width of about 23″. That's why I figured how to do the doubleweave, so I could make handwoven baby blankets, which have turned into a popular item. Doubleweave on a four-harness loom limits the weaving pattern to tabby, or plain weave.
I wanted to try some other weaving patterns for the baby blankets, so I put the call out to my weaving guild (actually named the Southern Tier Fiber Arts Guild). A fellow guild member immediately offered to loan me her loom! Wow! That's generosity. Carol hasn't woven in years, but still, she entrusted this fine piece of equipment to me in a heartbeat. Carol is an AMAZING knitter, and has developed some great techniques with natural dyes along with her friend Debbie MacCrea. Their classes always fill up fast.
So I got a friend with a truck to help me pick it up, and in a few days time I had a Harrisville Designs loom ensconced in my house. It spent a few days folded up in the pantry while I figured out how to rearrange things so I could set it up. I was also simultaneously worrying that I wouldn't know how to set it up. (I thought I'd taken a picture of it folded, but apparently not. That would have made too much sense. Now when it's time I'll have to figure out how to fold it up with no diagram OR photo.) I tried to go the Harrisville website and see if I could download some instructions, but they are WAY behind the times on the web front – their website wasn't even openable. The nice folks at Halcyon yarn commiserated with me, and told me they could sell me a manual for $20. I decided to take a leap without it.
A few days later I gathered my courage. I moved my own loom to a temporary location and the Harrisville to center stage. I unfolded it one step at a time, and it all seemed to make sense as I was doing so. As did loom operation. Looms are, after all, very simple machines.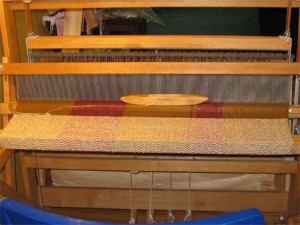 Carol's loom had a warp on there that she said was 30 years old, but I'm sure that was an exaggeration. Anyway, I decided to start by weaving the warp that was on there, since the wool was in good shape. I tied it to the front beam and away we went. Neither of us had any idea how much length was there, so I simply chose some organic cotton boucle I had in a cream color that would look good with the gold & burgundy wool. After an inch or so of tabby, I decided to try a simple advancing twill treadling.
As soon as I did, I was greeted by a lovely threading pattern! I realize it doesn't show up well in this photo, so you'll just have to take my word for it. I was also surprised by the length – after 80″ I stopped weaving and cut the remaining 20 or so inches off the loom. I mailed Carol the blanket as a thank you gift today.
So here's what I love and don't like so far about the Harrisville loom.
It can weave a 36″ width. I thought I would have liked a little wider, but realized after working on Carol's blanket that my short little arms would not like a wider loom.
This jack loom is only a four treadle, and the best I can figure from its setup is that you can only do a 1-1 tieup. That means two feet are needed for a plain weave and most other weaves, too.
It has a great race, which makes the job much easier on a wide piece.
It's REALLY LOUD when dressing the loom – that ratchet on the back beam makes a horrible noise. It's also a bunch noisier than my loom the rest of the time.
The castle is pretty low – actually a few inches lower than my loom, so it makes it not seem so huge in my small room.
It does fold up, even with a warp on it, making it pretty small.
Unlike my handmade loom which was made in a simple design, I can release the brake on the back beam while I'm sitting down and weaving. I have to get up to do that on my loom. Although it does give my butt a break, it's not anywhere near as efficient.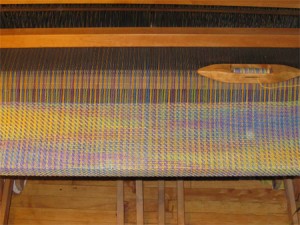 And here's my first handwoven baby blanket on the borrowed Harrisville.
If you have any great experience on a Harrisville and can offer me some helpful hints, or an electronic version of the manual that shows me how to fold it up when I need to, I'd love to hear from you!