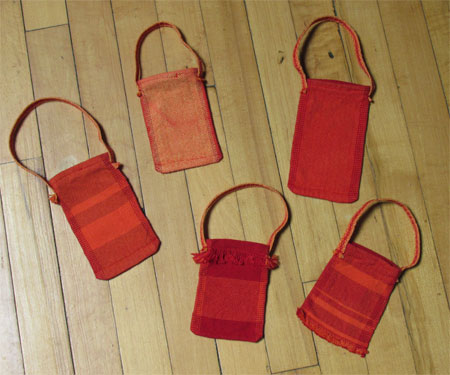 My goal was to weave the 3 silk scarves in 1 day. HAH! I'm now on day 3 and still have 1 scarf to weave.
One day I spent 4 hours mowing the lawn & wacking the weeds, plus other necessary tasks, so I only got one scarf woven that day.
The next day? To be honest, I don't remember what all I did to take me away from the loom so much that I just got one scarf woven.
This morning, instead of starting at the loom I decided to finish off those little treasure pouches I wove a month ago. I took that inkle band I wove last week, machine stitched across it to seal the edges as needed, and turned it into handles and button loops for the pouches.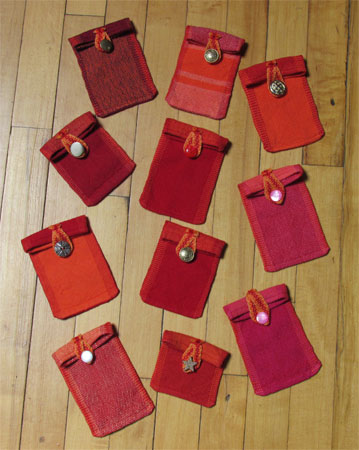 Amazingly, I had JUST ENOUGH inkle band to give every pouch some type of accent. It wouldn't have worked out like that if I'd planned it!
The little bags are all about 3″ across. The longest ones are roughly 5″ long, with that tiny one at the bottom — the one with the star button — only about 3″ high after it's buttoned. I'm going to give that one to my sweet, little grandson, encouraging him to use it for whatever little treasures he'd like now, and later for when his teeth fall out to make sure the tooth fairy can find them. Luckily he can't read yet, so he won't know of this plan till he receives the treasure pouch as a gift.
Now I've gotta go wash the dishes and maybe get some weeding and mulching done before it gets too hot. Then I really will try to weave off that silk scarf today. Those scarves will need to be fringed.
Since I don't yet have the cotton for the next batch of baby wraps, I do have a plan for scarf warp #3. But maybe I'd better pick something else since that one won't be fast. Or maybe I'd better put on a short towel warp, since I need to weave a few as hostess gifts in a specific color. I'd better make that decision today so I can get started on whatever will be next as soon as I finish weaving those silk scarves!