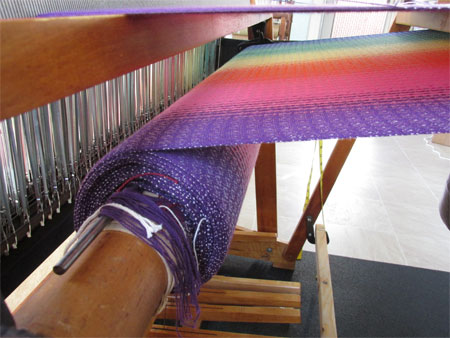 After some days of less-than-stellar productivity I've finally finished weaving EK's custom baby wrap. That's hers and LY's all wound on my cloth beam, 11 yards of evidence of my hard work. I'll cut their wraps off the loom this afternoon and start the off-loom finishing process. I could have them ready for the mail on Monday, but since it's Columbus Day the post office won't be open, so they'll be mailed on Tuesday.
So what have I been doing? Paying attention to Jack (who's doing well, thanks), cooking, doing the home energy audit (I can give you details later), working with moms who are planning their own custom handwoven baby wraps, knitting (more on that in a future post) and creating a Pinterest account and boards. The last may have been a big waste of time. Mostly I did it because for months I've been frustrated at not being able to see things other people posted on the site. But once I created my account (a few weeks ago) my obsessive-compulsive self couldn't let it just sit there, so I spent hours creating boards and searching for things that interested or inspired me.
Tomorrow I'll be going to the wedding of friends back down in the Southern Tier. I'm looking forward to sharing their happiness.