Fun: taking care of my adorable grandson for 2 days so his parents can have a night away just for themselves. It's even fun, of a different sort, I admit, when I have to learn how to use their baby carrier so I can carry him around the house all day on Monday because that's all he wants in his "I don't feel good" mode. Well or sick, he's a gem, and it's only the tiniest part of my brain that's worried about the fact that I'm not weaving for these 2 days.
Not Fun: getting the virus he had. I've been down for 4 days now, spending most of my time in bed or on the couch, and a little bit of time working on my rigid heddle loom. I do need to weave off the warp I have on there, which I put on in December for a specific purpose, because I have a woman waiting for a sample that I need to do on that loom. Plus, before I know it, it'll be time to do weaving demos.
Fortunately, February had been a great month for me, productivity wise, until the Fun/Not Fun.
So here's the next installment of weaving I did before hitting the couch. It's Tammy's beautiful colorway, Blue Violets.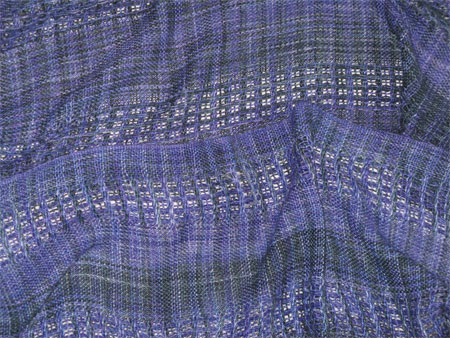 I wove these scarves in a pattern I've used many times – Swedish lace blocks running along both edges, with plain weave in between. This simple look is always well received, probably because it's light and airy and looks great with everything.
As always, these scarves wove up quickly on my counterbalance loom.
Time for another nap now.