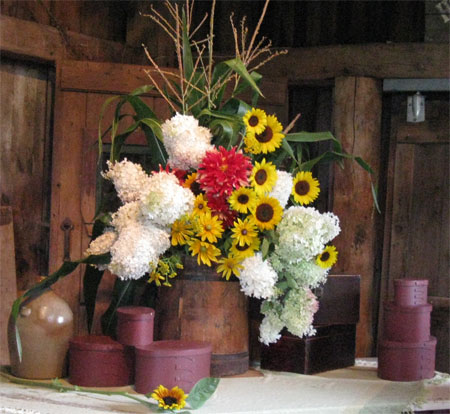 A few weeks ago, my sisters, my daughter and I had our second annual celebration at Hurd Orchards. We had a really delicious lunch, made on site from fruits any veggies grown on the farm, with everything from salad to mini muffins, applesauce to quiche, finished with a wonderful cheesecake.
Each of the tables had a beautiful, large centerpiece of fresh flowers, with huge ones places on center and side tables. A variety of sunflowers and dahlias were offset by peegee hydrangea blossoms, and given height and greenery by….yep, cornstalk tops! I'm sure I never would have thought of putting in the corn, but it looked really lovely.
After lunch we made some wreaths from dried flowers, then picked peaches and nectarines. We finished the day by buying yummies from their little market, including purple basil jelly, blueberry bread, and fresh-picked fall red raspberries. It was a wonderful day. Hurd's have plenty more opportunities to enjoy the farm throughout the fall and right up to Christmas. Check it out if you're within driving distance.
This photo is also an entry in Carmi's thematic photo of the week – flowers. Check it out and join the fun.